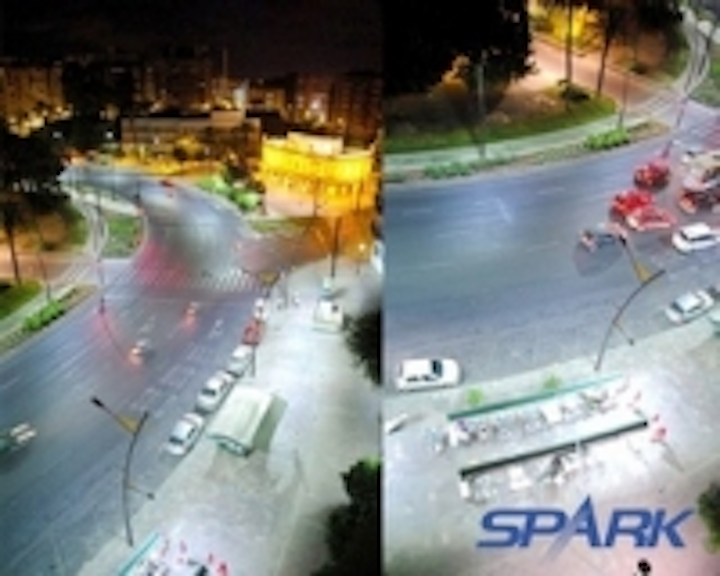 Date Announced: 17 Oct 2011
Spark LED Street Lights SPL-48, SPL-144 is in Portugal Project with high luminous flux, good uniformity.
Technology will change life, innovation drive technology. SPARK, as the leading manufacturer of LED street lighting, keep innovation all the time. Above are the pictures of our latest street lights project in Portugal installed in July, 2011. The street lights models are SPL-48 and SPL-144. Two lamps on one pole: SPL-144 (the higher one), SPL-48 (the lower one).
Differ from what installed in the past, this is the first time we adopt our latest optical lens, which are of polarized design. Lights emitted to house-side will skew to road-side, greatly increase the usage. In other words, even the lamps are installed not at any elevation angle, part lights will automatically skew to road-side at 10~ 15 degrees. Equivalently, the pole arm has 10~ 15 degree elevation angle. Such design is more user friendly, for those pole arm not having any elevation angle, this will be the best solution.
Spark LED Street Lights have 18 patents, of which 5 patents for invention, the technological performance have reached the national standard, the product passed the CE, Rosh, UL, ETL, PSE, and so on. With its excellent light irradiation effect, excellent energy-saving level, intelligent user-friendly controls, received the support and endorsement of many new and old customers.
Spark high power LED Street Lights use high brightness United States original CREE LED as light source, luminaire efficiency as high as 85-90lm/W, it can directly replace the traditional lighting such as high color rendering metal halogen lamp product, and meet adequate, uniform illumination requirement for roadway lighting.
To learn more details, kindly feel free to contact us! Your light, we care!
Contact
Aileen Huang Spark Marketing Director Tel: (86 755) 8390 4366 Fax: (86 755) 8390 4766
E-mail:alice@spark-oe.com
Web Site:www.spark-oe.com