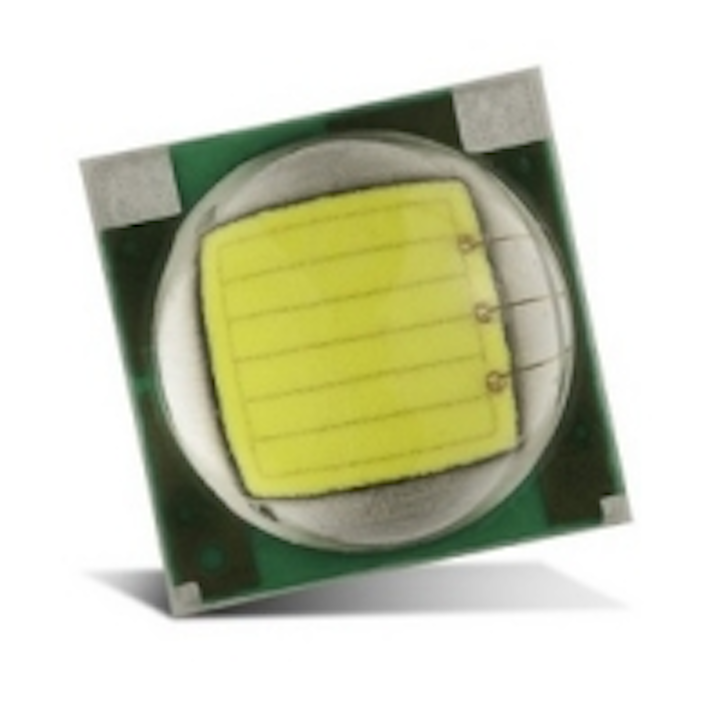 Date Announced: 03 Oct 2011
Mouser Electronics, Inc., regarded as a top design engineering resource and global distributor for semiconductors and electronic components, today announced the availability of a wide range of Cree XLamp® LEDs. Cree is a market-leading innovator of lighting-class LEDs, LED lighting, and semiconductor solutions for power applications.
Cree's XLamp LEDs offer unprecedented lighting-class color consistency and reliability, best-in-class efficacy, and long lifetime. Designed for lighting applications that require high lumen output delivered with low power consumption, the XLamps simultaneously provide consistently repeatable color temperatures in a package that has low thermal resistance that is part of an electrically isolated thermal path. These application-optimized LEDs lower system cost by matching the specific performance needed with a specific task. To help spring-board design engineers, Cree has numerous reference designs available for free download at http://www.cree.com/ledreferencedesign/.
Cree's XLamp LEDs have been developed with application-optimization in mind to deliver the necessary performance across a variety of lighting applications, including color-changing, portable and personal lighting, retrofitting fluorescent and bulbs, commercial, emergency-vehicle, retail display, and entertainment lighting.
The XLamp family is available in a wide range of color temperatures and colors (white: 2700K – 8300K, nominal; red, green, blue, orange, and amber), with a variety of viewing angles (90⁰ – 140⁰, FWHM), and package sizes from 3.45 x 3.45mm. To learn more, visit http://www.mouser.com/creexlamp/.
With its broad product line and unsurpassed customer service, Mouser caters to design engineers and buyers by delivering What's Next in advanced technologies. Mouser offers customers 19 global support locations and the latest, most technologically advanced components for their newest design projects. Mouser Electronics' website is updated daily and searches more than 8 million products to locate over 2 million orderable part numbers available for easy online purchase. Mouser.com also houses an industry-first interactive catalog, data sheets, supplier-specific reference designs, application notes, technical design information, and engineering tools.
About Mouser Electronics
Mouser Electronics, a subsidiary of TTI, Inc., is part of Warren Buffett's Berkshire Hathaway family of companies. Mouser is an award-winning authorized semiconductor and electronic component distributor, focused on the rapid introduction of new products and technologies to electronic design engineers and buyers. Mouser.com features more than 2 million products online from more than 450 manufacturers. Mouser publishes multiple catalogs per year providing designers with up-to-date data on the components now available for the next generation of electronic devices. Mouser ships globally to over 300,000 customers in 170 countries from its 492,000 sq. ft. state-of-the-art facility south of Dallas, Texas. For more information, visit http://www.mouser.com.
About Cree
Cree is a market-leading innovator of lighting-class LEDs, LED lighting, and semiconductor solutions for power applications. Cree's product families include high-brightness LEDs, lighting-class power LEDs, and power-switching devices. Cree's LED solutions are driving improvements worldwide in applications such as general illumination, backlighting, electronic signs and signals. Cree is also among the world's leading manufacturers of silicon carbide-based diodes for power control and management, providing increased efficiency in a variety of applications from solar inverters to industrial motor drivers to wireless technologies.
Contact
Kevin Hess, Mouser Electronics Vice President Technical Marketing (817) 804-3833
E-mail:kevin.hess@mouser.com