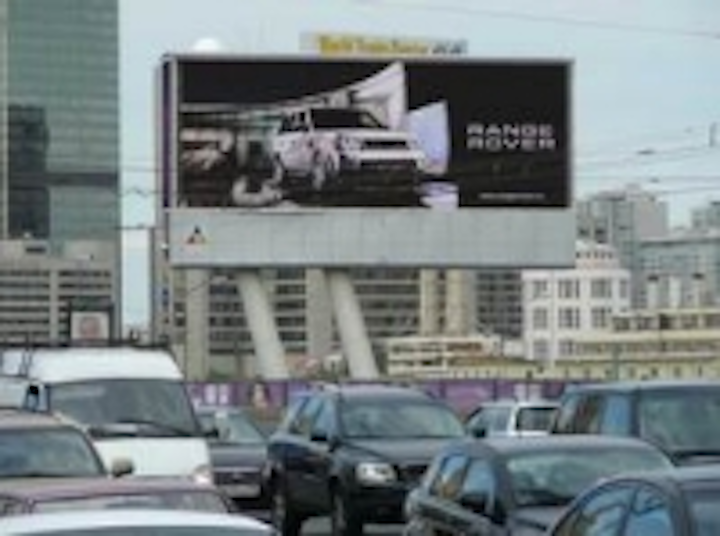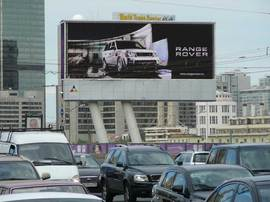 Date Announced: 26 Oct 2011
Moscow – With the Russian advertising market being one of the fastest growing in the world, there is great potential revenue from the effective use of large format LED screens. Central Moscow is a prime location and a second outdoor Lighthouse screen is now bringing the benefits of its clear, uniform images to a range of advertisers.
Positioned at the major intersection of Kutuzovskiy Prospekt and Krasnopresnenskaya Naberezhnaya, the screen is located in front of the Parliament building and is seen by many thousands of Muscovites each day. It was installed by Newform International, one of the country's most successful advertising companies and is powered by an IMTV system.
Comprising a 12 x 6 panel (15.36 x 5.76m) main screen, plus a 1 x 6 panel (1.28 x 5.76m) vertical strip, all of Lighthouse 10mm panels. The content is streamed using SCALA software with control via the internet direct from IMTV's office. This system utilises pixel mapping, thus ensuring the screen is used to its full potential, running high quality advertising content specifically designed for use with the Lighthouse screen.
Lighthouse 10mm panels were chosen because of IMTV's previous, and highly successful, Moscow installation.
"The customer chose Lighthouse 10mm panels again because they were really impressed with the quality and reliability of the panels used in a previous installation in Bolshaia Dorogomilovskaia, which is in a strategic position and visible to millions of people every day," says Lighthouse project engineer Olaf Mineo.
"The first screen has worked without any problems whatsoever and proved itself exceptionally resistant to the tough winter conditions in Moscow."
About Lighthouse Technologies Limited
Lighthouse Technologies Limited is a global leader in LED display technology that develops, manufactures, and markets LED video display solutions for multiple indoor & outdoor applications, media and entertainment events, and sports arenas across the globe. With numerous technological breakthroughs to its name, Lighthouse has established itself as a multi award-winning leader in the LED display industry that holds itself to the highest standards of quality.
Founded in 1998 Lighthouse has a strong global presence with regional offices in Europe, North and South America, the Asia Pacific and China. Employing the most advanced technology, the highest quality manufacturing facilities, and world-class, round-the-clock technical support, Lighthouse satisfies customers on every major continent, captivating the imagination of millions. For more information about Lighthouse, please visit
Contact
Sarah James Gasoline Media Limited
E-mail:info@lighthouse-tech.com
Web Site:www.lighthouse-tech.com