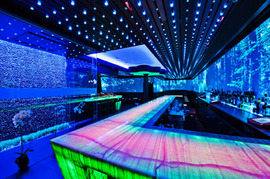 Date Announced: 25 Oct 2011
Haven is an intimate, vibey, exclusive restaurant in the trendy South Beach district of Miami, Florida, featuring a fabulous Anolis LED lighting scheme created by lighting designer David Chesal and Mike Boles, the venue's independent owner, hospitality designer and tech-savvy entrepreneur, who wanted "Something different".
The 1237 Lincoln Road location is a contemporary food lounge fusing a unique mix of cutting-edge design, international cuisine and creative cocktails in South Beach's busiest business district.
This most recent creation by Boles in collaboration with Chesal features a state-of-the-art light and sound installation that retains a warmth and accessibility that Boles believes will appeal to both locals and out-of-towners.
Chesal and Boles have collaborated before on producing differently themed environments, and both are big fans of the Anolis LED brand, "I needed a real quality and very reliable LED system to compliment the style and elegance of the Haven marque," explains Boles.
The design involves the installation of lighting absolutely everywhere in the venue - down-lighting the bar, dining area, strafing the walls, illuminating the tables, running through the ceiling and imbibing the toilets with a comfortable radiance.
The concept works seamlessly in helping morph Haven's aura from lunchtime lounging to early evening contemporary fusion dining to later evening dancing, chilling and cool DJ sets.
Chesal and Boles took all these different mood parameters into account when considering how to light the venue.
Haven's rich, all encompassing ambiance is established through attention to detail and technical insouciance. The walls - effectively a massive HD projection window - can be streamed with one continuous digital image, ranging from breathtaking scenic views to abstract video art, evoking a constantly evolving environment which is also ideally suited to branding for private events.
The lighting magic starts outside where Haven's 20-seat sidewalk café offers cushioned teak arm chairs for open-air dining. Running alongside is a white concrete sidewalk. Embedded in the overhang above are Anolis ArcLine Outdoor Optic fixtures fitted with 25 x 6 degree lenses, giving the exact throw angle required to light the floor section below perfectly without spillage.
Once inside Haven, guests are welcomed by a black beach pebble water wall that leads into the 120 capacity venue. The water wall feature has the same Anolis ArcLine Optic fixtures grazing the textural black stone behind.
This effect works brilliantly, and Chesal comments, "The stone is absolutely jet black, but the output of the ArcLine Optics is so intense that they do literally colour change black with absolutely no problem - and that's really impressive".
The focal point of the intimate space is a custom-designed open kitchen and chef's counter offering front-row seats to the inventive food preparation. Like the counter, the bars and tabletops are constructed out of white Siberian onyx and reclaimed American-walnut. The main bar is opposite the kitchen and extends midway into the lounge, where recycled black-leather banquettes and Ottomans accompany up-lit low tables that illuminate the chef-designed glass plate ware.
The two back-lit stone bar dies (faces) are internally lit with Anolis ArcLine Optic 4, an RGB WW (warm white) source. The fascia skimming effect on the stone again capturing the vibrancy and luminosity of the light brilliantly, creating a smooth and fabulous rich internal shimmer.
Above the bar a channel is carved out of the wooden ceiling to the exact dimensions of a strip of ArcLink with 25 x 6 degree lensing, which beams downwards illuminating the area beautifully, smoothly and precisely.
In addition to the back lit onyx fronting and topping the bar, embedded in the floor are 14 Anolis ArcSource 3 in-ground RGB units with 25 degree lenses up-lighting the cocktail tables. When the tables are removed and the area becomes a dancefloor, these same lights take on a new role as colour changing effects fixtures.
The ceiling cones and the liquor tiers behind the bar are lit with Anolis ArcLink 3s - a very flexible pliable unit - and above the DJ booth is a row of ArcLine Optics down-lighting the decks.
No self respecting NOW venue would be replete without some groovy lighting in the toilets, and Haven is no exception, with custom recessed boxes scooped out of the ceiling, each fitted with powerful Anolis ArcSource 7 RGB WWs with 6 degree lenses. The light sources are imperceptible to the eye producing dramatic 'illusory' pools of light from nowhere!
Ensuring that nothing escapes some type of lighting treatment, and also proving that Anolis is versatile enough to be specified for practical applications as well as for effects and mood lighting, the main kitchen work areas are also illuminated with ArcLink 3s.
A 35-speaker high fidelity audio system surrounds the space, making it a safe haven for pure sound enjoyment, with rhythms and tempos organically escalating as the evening progresses.
Additional touches include a ceiling grid of 1,000 colour changing frosted replica ice cubes used by Haven's mixologists combined with 14 zones of soft LED down lighting and a walnut-tree structure with an illuminated canopy for additional warmth.
Chesal sums up, "Haven was one of these amazing projects with real scope to illustrate what's achievable with good lighting, and how this can add to the whole visitor experience and boost its success, literally as a 'chameleon' style environment. It was seriously inspirational working with Mike on the project, and I am very proud of the results of his vision and imagination".
In addition to the aesthetics, Haven also benefits from the low power consumption and minimal ongoing maintenance costs of utilising LEDs.
Contact
Louise Stickland +44 (0)1865 202679/+44 (0)7831 329888
E-mail:louise@loosplat.com
Web Site:www.anolis,eu