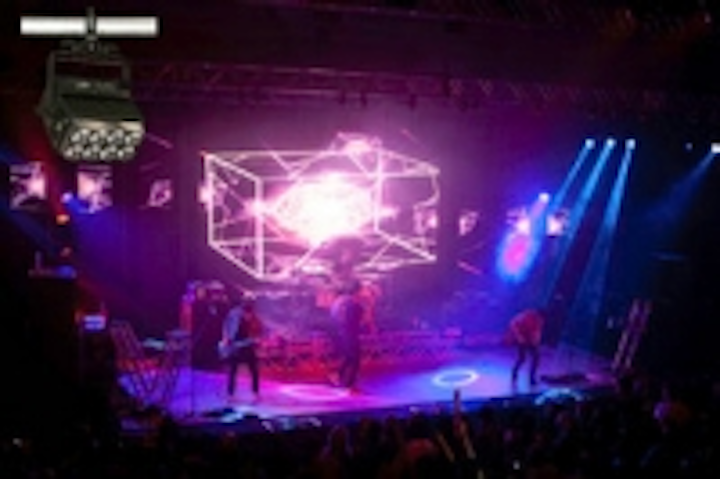 Date Announced: 05 Dec 2011
Buckinghamshire, UK based Universal Event Productions (UEP) has recently invested in a batch of the new i-Pix Satellite MkII LED fixtures as well as i-Pix' popular BB4 LED wash lights to service its busy on-going schedule of corporate and live events.
UK based specialist LED manufacturer i-Pix launched the new Satellite Mk II LED 'brick' ligh tsource at the 2011 PLASA Light & Sound exhibition in September.
This was five years after the launch of the original Satellite, which was the then new company's debut product, and rapidly became a trend-setting massive best seller worldwide.
Universal Events purchased 24 of the original Satellite products when they came to the market in 2006. They have been in constant use …. and are still going strong today, "They have been an absolutely essential element and a constant workhorse product in our hire inventory," confirms UEP's MD Steve Butcher, adding that the Satellites have also been rock-solid reliable throughout five years of full-on duty.
This is the kind of low maintenance that rental companies dream of. It underlines both i-Pix commitment to producing robust, well-engineered LED products and their emphasis on excellent customer service.
"When the Satellite Mk II version came on-stream," continues Butcher, "We didn't think twice, and immediately placed the order," which was delivered via i-Pix distributor White Light.
The Satellite Mk II takes advantage of the huge advances in LED technology over the last 5 years. While it's still housed in the same compact package, Satellite Mk II offers four times the light output.
The colors include a full range of RGB plus a 5600K daylight white light, which is very handy for trade shows and exhibition-stand illumination as well as corporate presentations and product launches. The unit also has improved fully homogenized optics - a feature that has always been an i-Pix LED product standard – and an area in which they have led the field.
UEP's Satellite Mk IIs and BB4s went straight to work on a variety of projects including the recent launch of CoD MW3 (Call of Duty - Modern Warfare 3) at Old Billingsgate Market in London, where they provided all the lighting. Both Satellite MkIIs and BB4s were ideal for washing large areas of draping at the back of the stage and in an extensive gaming area.
Butcher and his crew are impressed with the "massive" brightness of the Satellite Mk II.
The new i-Pix fixtures have also been in action on an exhibition stand for XBox's Forza Motorsport 4 stand at the Top Gear Live events in Birmingham and London, and on a Nike management conference in central London.
Butcher adds that the whole green and energy-saving aspects of adopting LED technology – of which i-Pix was among the earliest advocates in the entertainment industry – is a huge bonus in practical terms as well as better for the planet. The clients also like it, with many now conscious of reducing the carbon footprint of events.
Using them also enables venues, spaces and situations with limited power to be properly lit.
UEP has just ordered flight cases and battery packs for its 12 Satellite Mk IIs, which will further increase their versatility.
Using the battery pack transforms the fixture into a freestanding, focusable RGBW device, with stand-alone or wireless DMX playback, designed to run for a minimum of 9 hours with three of the four channels on full intensity.
Reliable, powerful battery powered units – still small enough to be tucked into all sorts of corners, nooks and crannies - are an essential tool for numerous events and site specific work.
Contact
Louise Stickland +44 (0)7831 329888 +44 (0)1865 202679 i-Pix direct +44 (0)161 443 4140
E-mail:louise@loosplat.com
Web Site:www.i-pix.uk.com