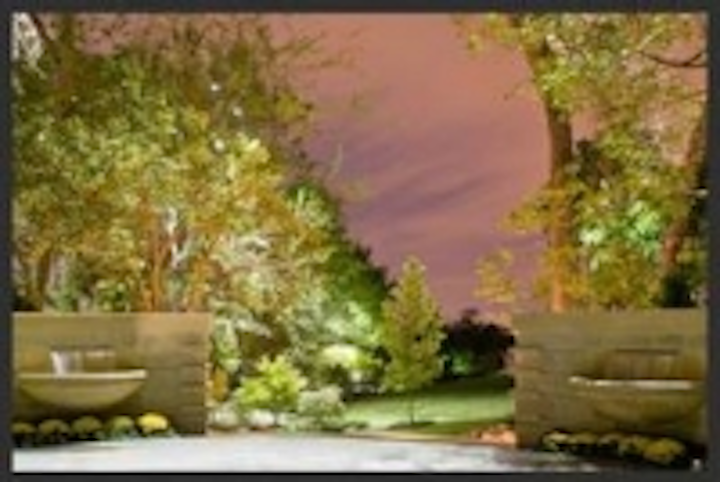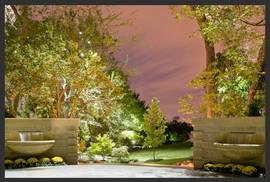 Date Announced: 08 Dec 2011
Satellite Beach, Florida — Lighting Science Group (OTCBB: LSCG), one of the world's leading LED lighting manufacturers, announced today that the company's LED bulbs have been used to light the Dallas Arboretum's newly christened Nancy Rutchik Red Maple Rill. The 2 acre rill features a collection of over 80 varieties of 200 signature Japanese Maples along the periphery of a circulating brook and winding pedestrian pathway. As opposed to R40 175W mercury vapor lamps that would have required ballast boxes to be mounted to trees, Lighting Science Group worked with Unique Lighting of Texas to illuminate the area with its ultra-efficient PAR30 LED bulbs.
"While the gardens are beautiful during the day, at night the lighting is so wonderful it makes you feel as though you are in a magical land," said Nancy Rutchik, commissioner and funder of the maple grounds. "Visitors who came out for the opening keep coming back to see the Red Maple Rill lit during the evening." The Red Maple Rill is lit up at night during the Arboretum's Concert in the Garden series as it is the main path to the Martin Rutchik Concert Stage & Lawn and for various after hour's events and wedding receptions.
Underlying—and enhancing—the rill's aesthetics, Lighting Science Group's LED bulbs beautifully highlight the trees without costing the Dallas Arboretum unnecessary electricity and maintenance expenses. Implemented by Unique Lighting of Texas, Beck Construction, and Rowland Jackson Landscape Architects, the LED system consumes only 1830 total watts; a figure closely matched by any average 1800 watt hairdryer and dwarfed by the 21,350 watts figure required by a mercury vapor lamp substitute. Not only energy efficient, but also eco-conscience, Lighting Science Group ensures that all of its product parts are sourced sustainably throughout the supply chain and at the end of a product lifecycle, remain entirely recyclable.
"Lighting Science Group's LED bulbs will enable thousands of Dallas area residents, students, and visitors to see the gardens and the Nancy Rutchik Red Maple Rill, specifically in a whole new light. Our products not only augment the natural beauty of the grounds themselves, but promote an appreciation for the applications of environmentally-friendly and energy efficient design," said Jim Haworth, chairman and chief executive officer of Lighting Science Group.
About Lighting Science Group
Lighting Science Group Corporation (OTCBB: LSCG) designs, develops, manufactures and markets LED lighting solutions that are environmentally friendlier and more energy efficient than traditional lighting products. Lighting Science Group offers retrofit LED lamps in form factors that match those of traditional lamps or bulbs and LED luminaires designed for a range of applications including public and private infrastructure for both indoor and outdoor use. Lighting Science Group's Advanced Projects Group business unit designs, develops and manufactures custom LED lighting solutions for architectural and artistic projects. Lighting Science Group is headquartered in Satellite Beach, Florida; the Company's European operations are based in Middelburg, The Netherlands; and, the Company has a sales office in Sydney, Australia. Lighting Science Group employs approximately 1000 workers building lighting products from domestic and imported parts. Lighting Science Group is a Pegasus Capital Advisors portfolio company. More information about Lighting Science Group is available at www.lsgc.com.
Contact
Andy Beck 202-288-6862
E-mail:abeck@mww.com
Web Site:www.lsgc.com