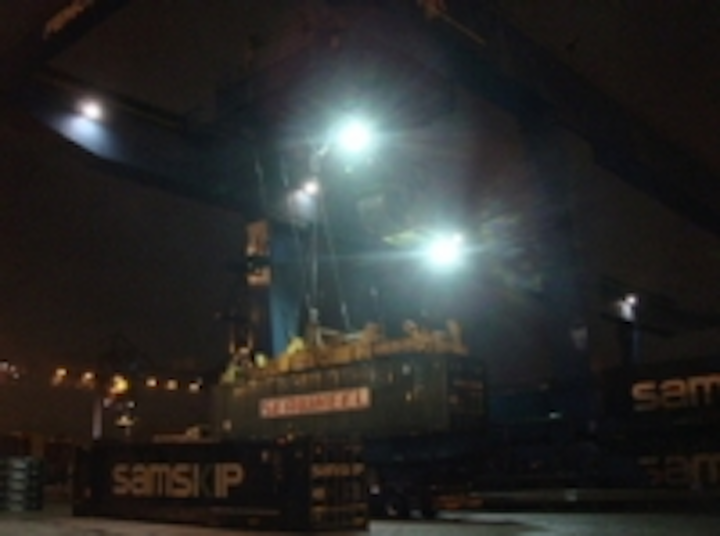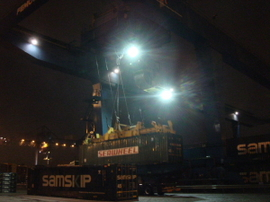 Date Announced: 21 Dec 2011
Rotterdam Sea Port contacted PAS-NGL for a test project with PAS-NGL 400W led floods on the container cranes. Container cranes works in 24/24 7/7 base, so every moment that these cranes are halted for maintenance, it is a financial loss for the operators.
The company told us that they have troubles with installed SON/MH lights which need frequent maintenance due to vibrations in the cranes when moving containers. The PAS-NGL led floods operate from 80 to 300 volt AC and are not sensitive to power drop. Discharge lights often are switched off when tension drops.
PAS-NGL proposed to install 2 x 400 watt led floods on the Stenis Spreader: 1 x 400 watt in 120° and 1 x 400 W 60°.
The crane operators working at night were very positive about the new led lights. The 6000° CRee XP-G R4 Leds offer a very bright and white light which is absolutely better than the earlier HID lights before. They experience a slightly faster handling due to a better sight.
Both rotterdam Sea Port and PAS-NGL are convinced that Solid State LED offers the best of both worlds.
The luminous efficacy reaches +100 Lm/watt; L70% will be reached after 60k hours.
Energy savings are +60% compared with the 1KW discharge lights
The company ordered more 400 Watt LED PAS-NGL lights and will replace all cranes with PAS-NGL Led in coming months .
Contact
Erwin Eeckhaut PAS-NGL Bergemersenstraat 137 9300 AALST Belgium 0032 53 710 942
E-mail:erwin@nextgenerationled.be
Web Site:www.nextgenerationled.be