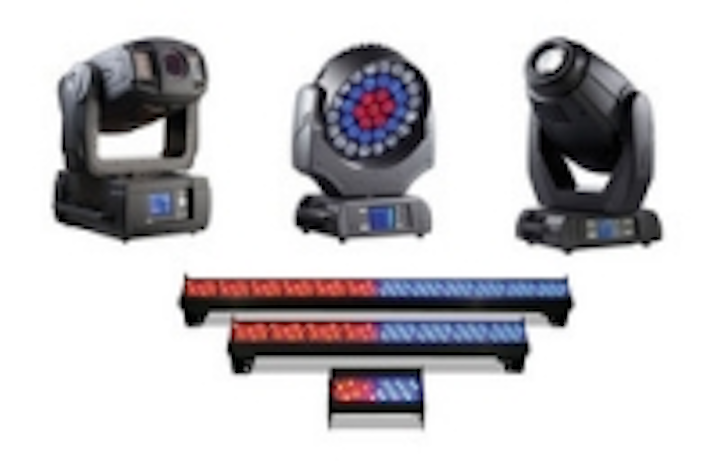 Date Announced: 05 Dec 2011
A.C. Entertainment Technologies Ltd (AC-ET), a UK distributor of lighting products, has delivered a quantity of the latest Chroma-Q™ Color Force™ LED and Robe moving and digital lighting products - including the brand new ROBIN MMX Spot - to Universal Live, a leading single-source production solutions provider to the live events industry.
Bradford, UK, based Universal Live works extensively in the corporate sector - supplying production equipment to conferences, roadshows, exhibitions, concerts, tours, festivals and other special events. This latest investment ensures that they have some of the best and most dynamic AV technology at their disposal to service a diverse range of projects.
The sale was coordinated between Grant Smith from AC-ET's Leeds office and Universal Live's MD, Jon Eden and hire manager, Ben Phillips.
Being based close to AC-ET's Northern office in Leeds is very convenient. "AC-ET is a brilliant company to deal with in all ways," says Ben Phillips.
Prior to the sale, Universal already owned a quantity of Chroma-Q Color Force 72 1.8m length LED battens, bought at the end of 2010 from AC-ET, which is the UK dealer. These have been in constant use ever since, and they were so impressed with the power and performance of the fixtures that they decided to buy more - this time, 12 each of the Color Force 12 300-mm multi-purpose units and Color Force 48 1.2m batten versions.
Universal performed extensive research and brand comparison before deciding on the Color Force range. Phillips explained that they really like the throw of the lights, together with the quality and intensity of the light output and the optics. The new Color Force units immediately went into action on an event and will become standard-issue fixtures in Universal's hire inventory. They are ideal for washing cycles, walls, set and scenic elements, as well as for forward-facing patterning and effects.
The Chroma-Q Color Force series offers a vast selection of colors and hues from dramatic primaries to the most delicate and subtle of pastels, while the advanced light engine ensures a completely smooth, homogenized source. Additionally, they offer all the benefits of LED light sources, such as lower power consumption and maintenance costs compared to conventional tungsten fixtures. Recently joining the range is the new Color Force Compact™, a slim profile, cost-effective version utilizing the range's core technology.
Universal Live has owned Robe products for several years, having bought their original ColorSpot 250 and 575E AT fixtures from AC-ET. They have found the fixtures to be robust, incredibly reliable and ideal for all of their work. Based on their previous purchases and confidence in the Robe brand, Universal Live decided it was time to upgrade the hire stock to include some of the latest and greenest Robe technologies.
This upgrade included 16 ROBIN 600 Spots, four ROBIN MMX Spots and two DigitalSpot 7000DT moving head projectors.
The MMX is Robe's next generation workhorse 1200 Spot fixture. Lightweight and with a small base, it offers a host of creative features, including a unique dual animation wheel. As part of the ROBIN range, it is the first in an inventive new series of Robe moving lights designed to a smaller-brighter-lighter and more energy efficient specification.
As soon as AC-ET delivered these to Universal, they went directly out on an event for a leading UK retail chain.
The DigitalSpot 7000 luminaires were originally specified by Universal's Pete Bramwell and are credited with bringing a new dynamic to Universal's AV department. The flexibility of being able to quickly and easily move a projected image to different places around a stage, set or space is a big asset, together with a wide range of presentational effects like warping and edge blending. The DT7000's can be used with Universal's Pandora's Box media servers, as well as any other brands. They also have the ability to upload and store content in the heads, which can be programmed via a lighting console or run in stand-alone mode.
Contact
For more press information on A.C. Entertainment Technologies, please contact Louise Stickland on +44 7831 329888 or +44 1865 202679 or EMail ; louise@loosplat.com. For more information from AC-ET direct, please contact: A.C. Entertainment Technologies Ltd. +44 (0)1494 446000 sales@ac-et.com www.ac-et.com/audio
E-mail:louise@loosplat,com
Web Site:www.ac-et.com