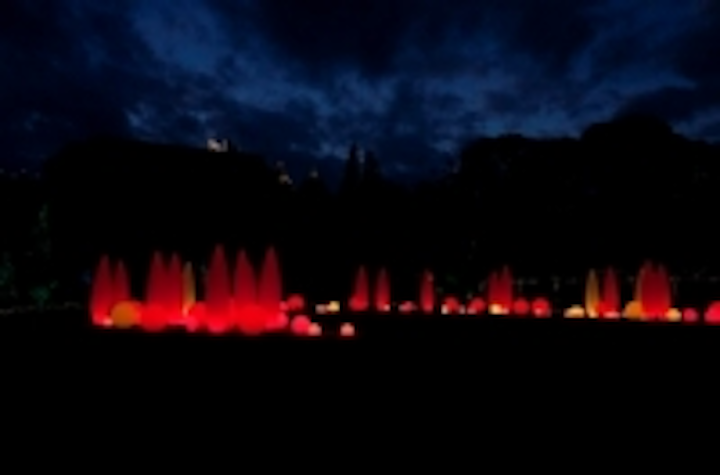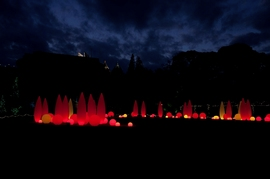 Date Announced: 15 Dec 2011
Satellite Beach, Florida — Lighting Science Group (OTCBB: LSCG), one of the world's leading LED lighting manufacturers, announced today the completion of an Atlanta Botanical Garden's seasonal light exhibit, 'Garden Lights, Holiday Nights,' which features green both as a primary festival color and as an operating energy principle. Nearly one million lights have transformed the garden grounds into a veritable winter wonderland, but Lighting Science Group's computer-animated LED installation on the Great Lawn serves as the display's undisputed flagship finale. Dazzling topiary forms of differentiating sizes and changing hues dance in-time to timeless Christmas carols awing visitors, designers, and artists alike—who are impressed to discover that the displays are ultra-efficient and entirely recyclable LED light fixtures.
"As a non-profit dedicated to cultivating and sharing organic beauty with the community, we were resolute that our holiday exhibition be a joyful expression of the season, but not at the expense of our mission to further environmental sustainability efforts and awareness," said Cathleen Hunt, the Atlanta Botanical Garden's exhibition manager. "Lighting Science Group's brilliant LED fixtures have transformed the Gardens into a breath-taking Christmas landscape that will delight thousands this time of year, all while preserving the sort of environmental integrity that does justice to the natural magnificence of the Garden's living collections."
Designed in collaboration with CD+M Lighting and Design Group of Atlanta, each of the LED fixtures incorporated on the Great Lawn uses a mere 10 watts of energy while boasting the capacity to cast 16.7 million distinctive color shades. The LED fixtures also include integrated sound sensitivity capabilities which sync the bulbs' color alterations with the viewers' musical experiences to create a sensation of "choreographed" dance routines.
"This holiday season, Lighting Science Group is delighted to offer the gift of inspiration by providing the technology behind the Atlanta Botanical Garden's interactive lighting exhibition," said Jim Haworth, chairman and chief executive officer of Lighting Science Group. "By fusing LED technology and an unmatched eye for design, Lighting Science Group's Advanced Projects Group has turned architectural and artistic dreams into a brilliant winter wonderland reality."
About Lighting Science Group
Lighting Science Group Corporation (OTCBB: LSCG) designs, develops, manufactures and markets LED lighting solutions that are environmentally friendlier and more energy efficient than traditional lighting products. Lighting Science Group offers retrofit LED lamps in form factors that match those of traditional lamps or bulbs and LED luminaires designed for a range of applications including public and private infrastructure for both indoor and outdoor use. Lighting Science Group's Advanced Projects Group business unit designs, develops and manufactures custom LED lighting solutions for architectural and artistic projects. Lighting Science Group is headquartered in Satellite Beach, Florida; the Company's European operations are based in Middelburg, The Netherlands; and, the Company has a sales office in Sydney, Australia. Lighting Science Group employs approximately 1000 workers building lighting products from domestic and imported parts. Lighting Science Group is a Pegasus Capital Advisors portfolio company. More information about Lighting Science Group is available at www.lsgc.com.
Contact
Andy Beck MWW Group 202-288-6862
E-mail:abeck@mww.com
Web Site:www.lsgc.com