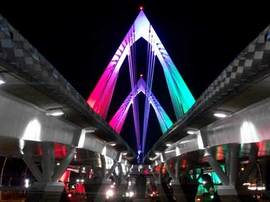 Date Announced: 03 Dec 2011
W-DMX™ by Wireless Solution Sweden AB is part of the beautiful new lighting installation on the 950 m Matute Remus bridge, in Guadalajara, Jalisco, Mexico.
The bridge is actually a suspension bridge, but rather than spanning a lake or river, it was designed to pass over pedestrian traffic from López Mateos Avenue and Lazaro Cárdenas Roadway. Underneath the bridge is a long stretch of parks, water features, a skateboard park and different sculptures.
The bridge is named after Jorge Matute Remus, a famous Mexican engineer from Guadalajara. Completed in early 2011, the lighting for the bridge was completed several months later. Lighting designer David Alexander of Teletec de Mexico S.A. de C.V. was charged with making the bridge as attractive at night as it was during the day.
He used 80 Showco Par LED 400 fixtures reaching to the top of the suspension, with wireless DMX signal distributed through 4 W-DMX G4 Flex units with remote antennas at a distance of 200 metres. Lighting equipment was supplied by Teletec.
Alexander said, "W-DMX was incredibly helpful in this installation considering the distance and obstacles. It has performed perfectly and the city of Guadalajara loves the effect."
Wireless Solution Sweden is the world's leading manufacturer of Wireless lighting control equipment, now celebrating 100,000 units sold worldwide and over 35 OEM partners. Hailed for its reliability and ease of use, Wireless Solution's W-DMX range of products is the consistent choice for top professionals in the lighting industry and specified with perfect results in high-profile events and installations around the world. W-DMX is also hailed as the best wireless OEM solution. W-DMX has been used for lighting major events including the Youth Olympics in Singapore; Season of Light in Helsinki; 2010 Olympics in Vancouver; Times Square in New York City; the Nobel Prize Banquet; the Berlin Wall 20-year Anniversary; Eurovision Song Contest 2010; and many more.
For more information about W-DMX™ by Wireless Solution, visit www.wirelessdmx.com.
Photos: Courtesy of Teletec.
Contact
Joan Lyman Wireless Solution Sweden AB joan@m-m-pr.com
E-mail:sales@wirelessdmx.com
Web Site:www.wirelessdmx.com