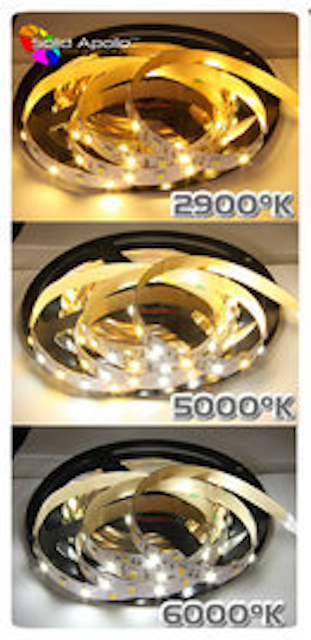 Date Announced: 24 Jun 2011
North Seattle LED Company SolidApollo.com launches Dynamic White LED strips with adjustable color temperature, which will enable Architects, Interior Designers, and retail furniture manufacturers, to control and adjust color temperatures dynamically on their lighting projects.
Solid Apollo has just introduced 2 new Dynamic White LED Lighting Strips, which will enable Architects, lighting designers, and also contractors to increase their creativity and flexibility in their designs while creating state of the art LED linear lighting installations.
Some of the biggest obstacles that lighting designers, contractors and architects encounter when developing linear lighting solutions, are achieving the correct color temperature on their installations, and being able to change dynamically the color temperature on the go.
Basically until now the solution was to use a single color temperature led lighting strip, hoping to have a good color rendering. Nevertheless, in some kinds of installations that require constant change of lighting, like museums, jewelry stores displays and architectural environments, using just one color temperature not always does the job.
Solid Apollo's Dynamic LED lighting Strips use 2 different color temperature LED Chips, with a color temperature range that goes from 3000 to 6000ºK. Using the available Dynamic White controller, the user can adjust the brightness of each set of LEDs, thus dynamically creating the exact color temperature required for that particular project.
According to Manuel Barquin, CEO of Solid Apollo: "The idea is very simple: by using 2 color temperature LED Chips in the same flexible circuit board, you are able to adjust with total precision the brightness levels of both LED chip channels. Therefore with just one product you have the power to adapt the color temperature for multiple uses, creating completely new lighting settings.
This opens a whole new world of possibilities for installations, in particular those that involve product displays like jewelry stores, museums, retail stores and seasonal displays, as most products displayed undergo constant rotation.
In the jewelry business for example, gold and diamonds don't shine well under the same lighting conditions. Diamonds need a higher color temperature, around 5000Kº, where as Gold prefers lower color temperatures. With Solid Apollo's Dynamic LED lighting Strips the lighting temperature can be changed in a snap"
Solid Apollo offers 2 Dynamic White LED Strip Light models:
- 44W 16 Foot Spools with 300 Epistar 3528 LED chips, (150 LEDs @ 3000ºK and 150 LEDs at 6000ºK.
- 72W 16 Foot Spools with 300 Epistar 5050 LED chips, (150 LEDs @ 3000ºK and 150 LEDs at 6000ºK.
The control system for these Dynamic White LED strips is done through a 2 channel Dynamic White wireless controller, which is able to handle up to 144W of LED strips. Also Solid Apollo offers 2 channel manual controllers that enable users to fine-tune the color temperature with great precision.
At the same time, Solid Apollo offers a wide selection of LED strips for other applications that range from 24W to 72W per unit, as well as many different colors and light temperatures, which enables any customer, to achieve exactly what their installation requires.
Solid Apollo´s engineering team is also developing new products that will tackle many of the typical obstacles that linear lighting faces. Solid Apollo is committed to offer solutions to any of the most common problems in LED Lighting that other competitors seem to ignore.
According to Manuel Barquin CEO of SolidApollo.com " We are currently designing a high end LED Light Strip that will be able to work directly at 110V AC, therefore avoiding the necessity to use drivers and signal amplifiers. This product is very interesting as users will be able to install 300 feet run of this product needing only one connection to any standard electrical socket. This product will be the perfect solution for anyone involved in long run installations".
About Solid Apollo.com: Solid Apollo is part of LEDSense Technologies Inc. which manufactures and distributes a wide range of led lighting products and solutions.
Contact
Mary Ann Neale PR Tel: 425-582-7533
E-mail:info@solidapollo.com
Web Site:www.solidapollo.com