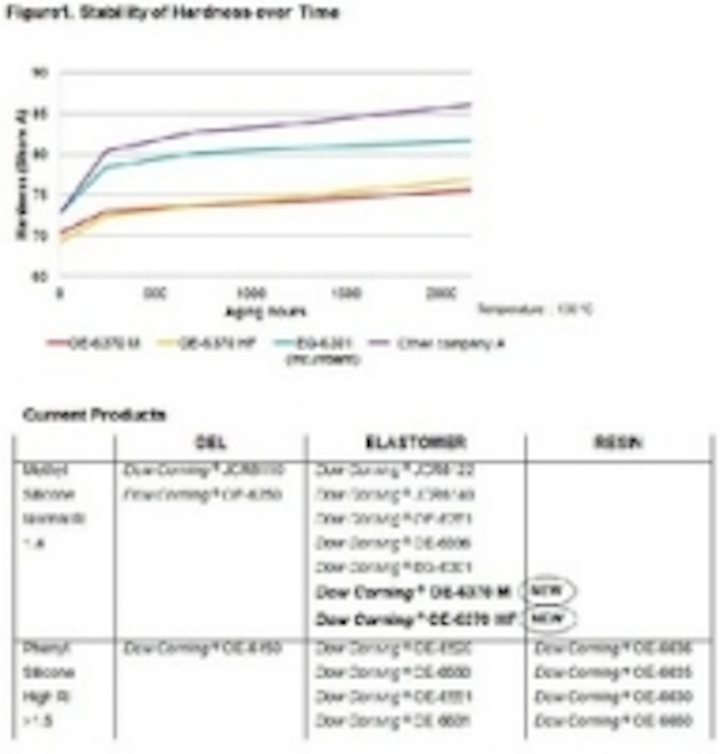 Date Announced: 14 Jun 2011
Dow Corning Electronics Solutions is expanding its portfolio of two-part methyl silicone elastomer encapsulants for LED manufacturing with the addition of the Dow Corning® OE-6370 Series Optical Encapsulant. OE-6370M is designed for dispensing, providing lower viscosity and longer pot life, while OE-6370HF is developed for overmolding, with higher viscosity and faster curing.
OE-6370 encapsulant excels in areas where conventional methyl silicone elastomer encapsulant materials fall short, offering higher hardness stability; improved low volatility; and higher throughput processing by optimized viscosity and cure profile. Similar to all Dow Corning Optical Encapsulants, LEDs manufactured using OE-6370 offer good light transmission due to its translucent appearance and resistance to yellowing.
"Dow Corning brand silicone materials are especially designed to meet the needs of the LED industry," said Kaz Maruyama, Global Industry Director, Dow Corning Electronics. "As reflected in Figure 1 below, less thermal hardening of our new encapsulants will contribute to better reliability for adhesion, providing the ability to use many different materials as substrates and interconnects, while reducing cracking and wire breaking issues."
Dow Corning is a global innovator of high-performance silicon-based materials for the next generation of lighting. Its solutions span the entire value chain, adding reliability and efficiency for sealing, protecting, adhering, cooling, and controlling light across all lighting applications. To learn more about its advanced silicone technologies for LED applications, visit dowcorning.com/lighting
Contact
Mirella Kimpen, mirella.kimpen@dowcorning.com,+32.64.88.8413 (Seneffe, Belgium) Ai Harada, ai.harada@dowcorning.com, +81.3.3287.8564 (Tokyo, Japan)
E-mail:ai.harada@dowcorning.com
Web Site:www.dowcorning.com/lighting