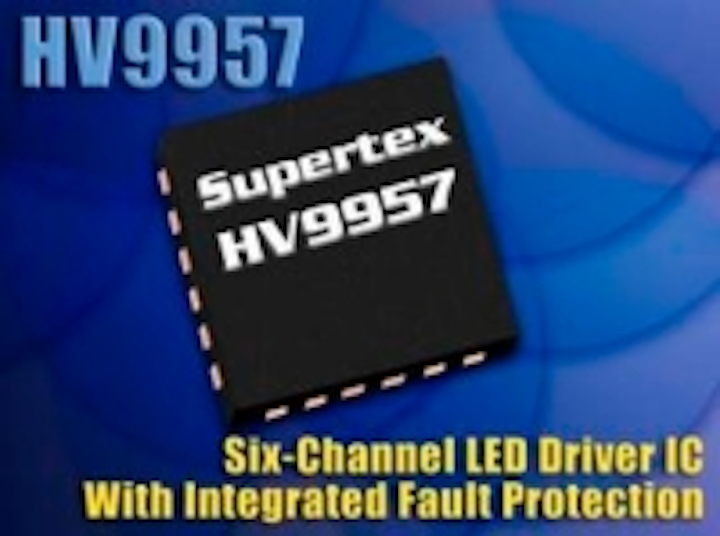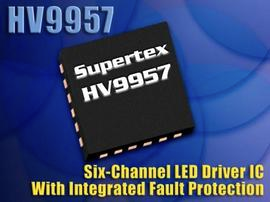 Date Announced: 30 Jun 2011
Sunnyvale, Calif. – Supertex, Inc. (Nasdaq GS: SUPX), a recognized leader in high voltage analog and mixed signal integrated circuits (ICs), today introduced HV9957, a six channel LED driver that provides strong protection from faulty LED strings with patent-pending technology. HV9957 combines a switch-mode boost converter and six low dropout, linear current regulators to deliver high efficiency and precise current control in an LED driver.
The IC can drive up to six strings of LEDs at 30mA each, which is well-suited for battery-powered LED backlighting applications. Temperature-triggered fault protection combined with an 'outlier' approach to indentify faulty strings overcomes problems inherent with ordinary fault protection. Faulty strings are turned off only when absolutely necessary. HV9957 provides protection from fault conditions such as over- and under-voltage supply, over-current, and over-temperature. When a fault is detected, the affected LED string is removed from feedback and the rest of the strings continue normal operation.
"By providing superior fault protection, HV9957 offers manufacturers a precise LED driver that can handle difficult fault conditions in individual LED strings," states Stephen Lin, Vice President of Marketing for Supertex. "HV9957 also features sophisticated digital circuitry to provide frequency control, fault protection, and phased dimming that is controllable to very low duty cycles for high dynamic range in today's LED backlighting drivers."
HV9957 is available in a 24-lead QFN package (HV9957K7-G). The part is RoHS compliant. Samples are available now. Lead-time for production quantities is 4-6 weeks ARO. Pricing is US$1.43 each for the HV9957K7-G in 1K quantities.
About Supertex
Supertex, Inc. is a publicly held mixed signal semiconductor manufacturer, focused in high voltage analog and mixed signal products for use in the medical, LED lighting, printer and display, industrial, and telecommunication industries. Supertex product, corporate and financial information is readily available at www.supertex.com.
Contact
Ken Vickers Marketing Communications Manager 408-222-4810
E-mail:kennethv@supertex.com