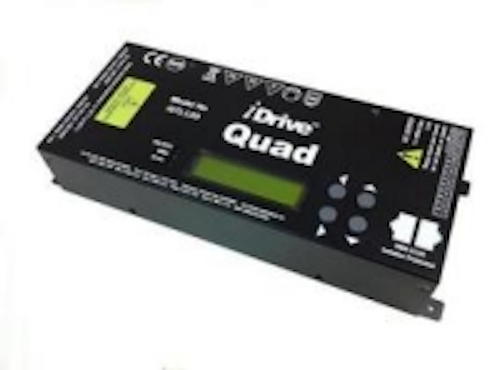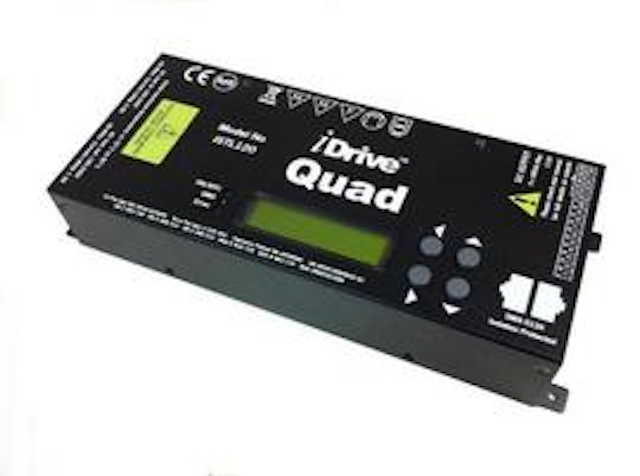 Date Announced: 16 Jun 2011
Integrated System Technologies (IST) has recently launched the iDrive® Quad, a 120W, 4 channel LED driver based on its patented advanced DSP technology.
The iDrive® Quad is a highly efficient (86-88%)* DMX/RDM compliant product, fully approved to CE61347-2-13, which can be deployed as a 1, 2, 3 or 4 channel driver. Two major benefits of this product are its ability to operate in common anode fixture arrangements and the fact that the channels can be bonded, allowing multiple channels to be wired together to deliver a higher forward current output and greater colour variations, including variable CCT .
Further flexibility of the iDrive® Quad's design is the independence of each of the 4 channels of voltage and current, enabling users to drive LEDs at different currents from one channel to the next, without the loss of efficiency. Each channel can be driven from 100mA to 1000mA in 10mA steps, and up to 48V DC, catering for any type of LED fixture.
The iDrive® Quad was designed with the architectural and entertainment industries in mind, although its flexibility means it is suitable for a whole host of other applications, such as retail, hospitality and leisure.
The iDrive® is feature-rich and boasts the same attributes as the other iDrive® drivers in IST's Generation IV range, such as the iDrive® Force 12 and the rack mounted iDrive® Force 24. The Generation IV range of drivers were the first LED drivers to offer variable voltage, variable forward current and dynamic power sharing control on every channel. Advanced features include:
• Ability to update the software remotely
• Software programmable forward current to suit different LEDs
• Thousands of in-built functions and shows
• Variable Voltage Technology: up to 300m between driver and fixture
• Dynamic Power Control: x2 forward current on RGB scenes
• 300,000 hour rated long life solid state capacitors on LED outputs
• Emergency mode for safety applications
• Low ripple current
The iDrive® QUAD has been designed to make installation simple and to save time by using standard IEC power and RJ45 DMX/RDM connectors with a unique user interface and backlit LCD display menu system to control all functions. Remote management including set-ups and LED fixture feedback can be done via RDM to enable rapid project installation and monitoring. The patented thermal control of attached LED boards optimise the LED installation for any environment. The iDrive® QUAD can be controlled by DMX512, RDM or using the hundreds of pre-programmed settings to provide independent scenes, colour combinations and effects.
Matt Fitzpatrick at IST stated: "We wanted to offer a 4 channel solution based on our Generation IV technology and initial market testing yielded an unprecedented response, since there are so few 4 channel drivers on the market that can deliver 120W of power.
The Generation IV technology is the most flexible LED driver platform that I have seen in the LED industry for 10 years and this has been reflected in our sales of the Generation IV driver products".
The iDrive® Quad is already in stock and volume shipping has already commenced.
About IST
IST Ltd is a world-class lighting company, specialising in the design and manufacture of innovative, ultra-efficient lighting systems and LED drivers.
The lighting portfolio includes patented white, dimmable LED downlighters, as well as RGB lighting solutions. The company has experience in commercial, wide area, architectural, retail and entertainment applications.
The research and development team has more than thirteen patents worldwide and a reputation for developing high-quality LED drivers used by global lighting companies. The iDrive LED driver range, including single, 3 & 4 channel, RGB, mains dimmable driver and the new iDrive Force, provides a high degree of innovation, significant energy efficiency and the world's first variable voltage, variable current drivers.
IST's LED driver range incorporates the patented Colour Cool™ technology, using Pulse Amplitude Modulation (PAM) to provide optimum colour mixing (RGB) and full additive luminosity. When integrated into a closed-loop temperature monitoring system, it ensures optimum output regardless of environmental conditions and offers significantly more efficiency for LEDs when they are dimmed.
IST offers over 20 years' experience in traditional and solid-state lighting solutions, including award winning electronic and optical system designs including controllers, luminaires, light engines and LED drivers.
Contact
IST Elliet Jones or Matt Fitzpatrick +44 (0)1922 457712
E-mail:sales@istl.com
Web Site:www.istl.com