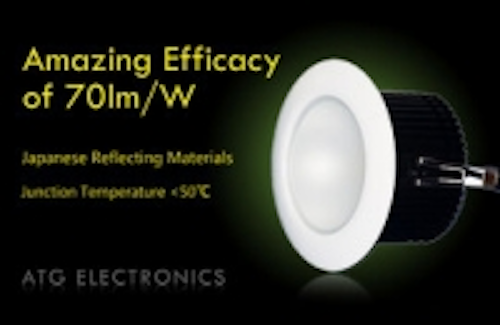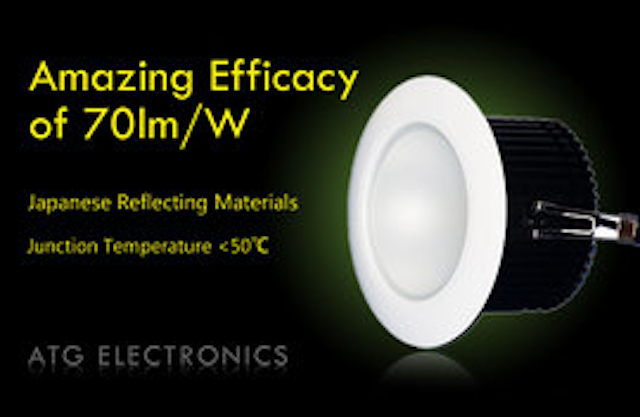 Date Announced: 23 Jun 2011
eLucent™ DLE Series LED Downlighs are energy-efficient LED recessed retrofits to replace conventional halogen and compact fluorescent (CFL) light for European market.
They are widely used in hospitality, commercial and residential locations.
They have amazing efficacy of 70lm/W by adopting ultra bright SMD LEDs and Japanese reflecting materials.
Junction temperature is under 50 centigrade thanks to ingenious heatsink design.
With elegant piano style painting and frosted anti-glare lens, eLucent™ DLE have nice looking and emit comfort light effect.
They can be easily installed into the fittings with spring-loaded clips.
eLucent™ DLE come with reliable constant-current external drivers which guarantee the electrical performance.
They are available in three dimensions. eLucent™ DLE3 fits into 3 inch fittings available in the market; eLucent™ DLE4 fits into 4 inch fittings, and eLucent™ DLE6 fits into 6 inch fittings.
Technical Specifications:
LED Qty: 20LEDs / 40LEDs / 60LEDs
Input Voltage: 100~277VAC
Lumens: 525lm / 1085lm / 1610lm
Power Consumption: 7.5W / 15.5W / 23W
Dimension: D108*H47.5 mm / D145*H80 mm / D196*H85 mm
Beam Angle: 120 Degree
Housing: Die Cast and Extrusion Aluminum
For more product details, please visit: http://www.atgelectronics.com/lighting/Illumination/LED-Downlights.html.
About ATG Electronics Corp.
Think Green, Act Green. ATG Electronics Corp., established in 1999 and formed partnerships with companies in California, designs, produces, distributes and licenses lighting emitting diode (LED) illumination and decoration lighting systems.
ATG's production is carried out strictly with ISO9001-2008 quality management standards. Their products are CE, UL and RoHS certified and are in the top ranks among similar products in the international markets; ATG's world-wide operation is managed through a customized ERP system and is highly efficient and transparent and therefore enables us to provide quick and high quality services to our clients.
ATG also offers a comprehensive OEM service package including consulting, individual planning design and engineering, cost analysis, delivery terms prognostics, manufacturing, and warranty. In addition, they license its patented technologies and provides technical support on project installation and system operation to create specified lighting effects for its customers throughout the world.
Contact
ATG Electronics Corp. (www.atgelectronics.com) International Sales Department Tel: +86-21-58350166 / (+44) 808-189-0989 (Toll Free) Fax: +86-21-58351977 E-mail: sales@atgelectronics.com Web Site: www.atgelectronics.eu
E-mail:sales@atgelectronics.com
Web Site:www.atgelectronics.com