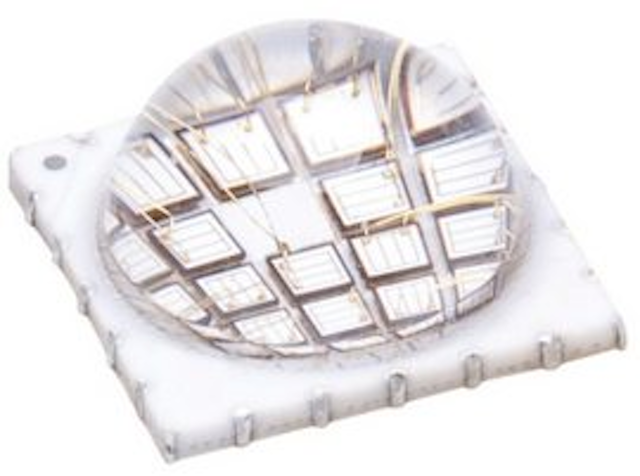 Date Announced: 15 Jun 2011
A new violet LED from LED Engin expands the company's line of UV-LEDs for a range of applications, including high-speed curing of inks and adhesives and applications for analytical instruments, forensic science and currency verification.
The 24-die LED array generates up to 15,000 mW with a flux density of 30 W/cm
2
at 400nm, while maintaining stable flux over 25,000 hours of operating life.
+++ Press Release +++
Santa Clara, CA –– LED Engin, Inc., a leader in high flux density LED products has announced the availability of 400nm violet LED components on its newest 24-die platform.
The latest product in the UV family of products provides record flux and flux densities up to 15,000mW and 30W/cm2 at 400nm – while maintaining stable flux over 25,000 hours of operating life.
These record high flux densities expand the use of UV LEDs in a wide-range of applications from high speed ink printing and adhesive curing to non-destructive testing analysis where the higher flux and flux density result in shorter curing and processing times. In addition, the compact form allows for intense, even and shadow-free illumination in applications such as forensics detection, machine vision and currency verification.
"Our violet emitter products have been developed to complement many of the new inks and adhesives that have become available for 390 to 410nm wavelength range. In the past, flux densities were not quite high enough to cure thicker paints or inks. LZP extreme flux densities not only enable such applications, they also double the speed of processing time in printing and curing applications, effectively reducing the cost of our customer's end products," said Uwe Thomas, General Manager Components Products, LED Engin.
Addressing customer needs for higher flux densities
Mr. Thomas elaborated: "Customers have been waiting for flux densities >30W/cm2 to replace expensive, power-consumptive and toxic Mercury lamps in a range of high speed ink printing and adhesive curing applications.
Replacing expensive, power-consumptive and short-lived lamps
The new LZP-series 400nm LED is a replacement for existing short-lived medium pressure mercury lamps commonly used for curing applications. The LZP-series UV products, with a 25k Hr operating life, instant on/off, no warm up and cool down times or accelerated degradation due to on/off switching, offer a robust, economical solution for UV applications.
LED Engin's new 24-die, 400nm emitters deliver rugged, reliable performance. List of features:
• 30W/cm2 performance with 15,000mW of power from a single emitter package
• Instant on/off and no warm up time make efficient use of the light source
• 40mm2 continuous emitting area in compact 12mm X 12mm form factor enables exceptional optical system efficiency with record flux densities
• Robust package design with integrated UV-resistant glass lens minimizes package-related degradation for increased lifetimes
• Thermally matched, stress free ceramic package eliminates common packaging failure modes
• JEDEC Moisture Sensitivity Level 1 provides unlimited shelf life
• RoHS Compliant
The LED Engin LZP-series 24-die UV LED is sold directly through LED Engin sales channels and its distributors and is currently available for immediate sampling with volume production in Q3 2011. For additional information or to find a sales representative, please visit: www.LEDEngin.com.
About LED Engin, Inc.
LED Engin, based in California's Silicon Valley, specializes in ultra-bright, ultra-compact solid state lighting solutions allowing lighting designers & engineers the freedom to create uncompromised yet energy efficient lighting experiences. Their LuxiGen™ Platform — an emitter and lens combination or integrated module solution, delivers superior flexibility in light output, ranging from 3w to 90w, a wide spectrum of available colors, including whites, multi-color and UV, and the ability to deliver upwards of 5,000 high quality lumens to a target. The small size combined with powerful output allows for a previously unobtainable freedom of design wherever high-flux density, directional light is required.
Contact
John Reed, Media Relations LED Engin, Inc. Santa Clara, CA jreed@elevatorpr.com (415) 846-4862
E-mail:jreed@elevatorpr.com
Web Site:www.ledengin.com