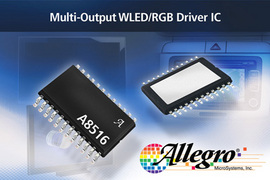 Date Announced: 01 Jun 2011
Worcester, MA – Allegro MicroSystems, Inc. announces a new multi-output WLED/RGB driver for backlighting LCD monitors and televisions. The A8516 is a versatile and economical LED driver IC that will enable system designers to reduce component count and overall system cost. The device integrates a boost controller to drive an external MOSFET and six internal current sink channels capable of up to 80 mA each, and channels can be combined together to achieve even higher currents.
The boost converter operates in constant frequency (programmable) current mode control. The LED sink current is set by an external R_ISET resistor and PWM dimming allows LED currents to be controlled. The A8516 provides protection against overvoltage, open or shorted LED string, and over temperature. A dual level cycle-by-cycle current limit function provides soft start and protects against overloads.
The A8516 is offered in a 24-pin TSSOP package (LP), a 24-pin SOICW package (LB), with internally fused pins for en¬hanced thermal dissipation, both with an exposed thermal pad for enhanced thermal dissipation. Both packages are lead (Pb) free, with 100% matte tin lead frame plating.
Contact
Stephanie Fennelly Director - Marketing Communications Tel: (508) 853-5000
E-mail:sales@allegromicro.com
Web Site:www.allegromicro.com