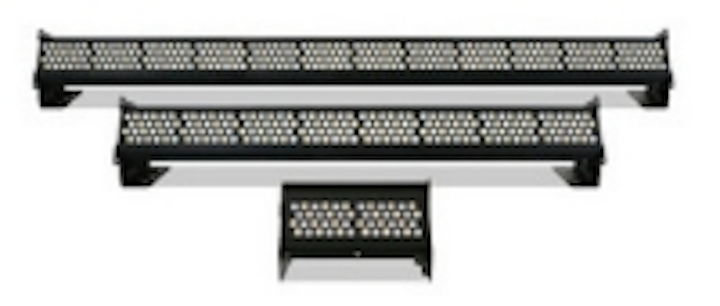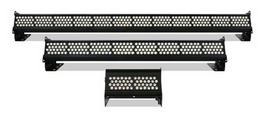 Date Announced: 01 Sep 2011
The new Chroma-Q™ Studio Force™ LED fixtures range features a choice of 6,100K CCT, daylight white (Studio Force D) and 3,000K – 6,100K CCT, variable white (Studio Force V) models – which between them provide an extreme output ranging from 5,300 up to 28,000 lumens.
The Studio Force range is specifically designed for TV, film, touring, exhibitions, corporate events and theatre lighting applications.
Utilising the same core technologies as the innovative Chroma-Q Color Force™ range, the six white LED models all offer at least twice the light output of their RGBA colour variants.
The Studio Force D 12 and Studio Force V 12 300mm / 1ft long multi-purpose fixtures are ideal for floor, wall or truss mounting. The units can also be used to extend Studio Force LED batten installations. Optional accessories include cyc and border light lens, lightbank kit, egg crate louver, top hat, half top hat, barn door, spigot adaptor and diffuser box attachment.
In addition, the Studio Force D 48 & D 72 and Studio Force V 48 & V 72 1.2m / 4ft and 1.8m / 6ft battens are suitable for a wide range of lighting applications, including key-lighting, uplighting, shin-busting, backlighting and wash applications. Optional accessories include a cyc and border light lens for general purpose wash applications, and a half snoot.
The Studio Force range's custom optical design provides a smooth, uniform wash output, matched by theatrical grade dimming.
Each unit features ColorSure™ technology for enhanced consistency across each light engine and when using multiple fixtures.
On the outside, the Studio Force fixtures have been designed to provide maximum versatility and ease of use. The built-in power supply, hidden quick release fixings requiring no tools, and PowerCon and 5-pin DMX connections in and out for easy daisy chaining provide fast deployment and simple cable management.
The range also features standalone Master and Slave modes for additional usage possibilities, flat end plates for seamless wall-washing and a rugged extruded aluminium body.
Contact
Louise Stickland +44 7831 329888 or +44 1865 202679 sales@chroma-q.com
E-mail:louise@loosplat.com
Web Site:www.chroma-q.com