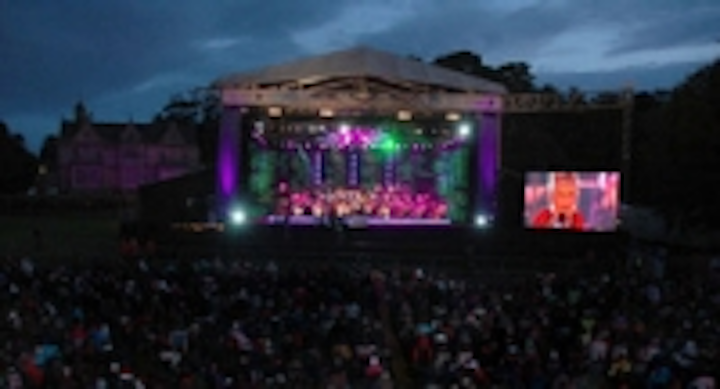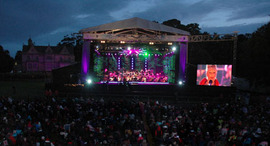 Date Announced: 25 Sep 2011
Following hot on the heels of one of their busiest periods ever, Production Services Ireland (PSI) supplied a moving lights, specials and LED effects package plus all rigging to the 2011 Proms In The Park event.
This is BBC Northern Ireland's largest OB event of the year and was one of four planned regional concerts that are linked live in to their coverage of the world famous spectacle of the Last Night of the Proms at London's Royal Albert Hall.
It was the second consecutive year that PSI had been involved in the BBC NI event as a major equipment supplier. The show was staged in the picturesque environs of Castle Park, Bangor, and featured the Ulster Orchestra plus special guests, presented by Noel Thompson and Claire McCollum.
The stage was supplied by Star Events. It measured 19 metres wide by 14 deep with 8 metres of headroom, from which PSI sub hung a 15 x 12 metre box truss for all the lighting positions. They also flew a 4 metre oval shaped truss upstage above the set.
Lighting was designed by BBC Northern Ireland's Philip Brines, and was a combination of PSI supplied kit and the BBC's own stock.
PSI provided 14 x Robe ColorSpot 700E AT and 20 Robe ColorWash 700E AT moving lights, which were specified for their brightness, reliability and ideal size for the application.
These were joined by eight 4-cell moles and four Source Four profiles to compliment the BBC's own Source Four key lighting. Six Studio Due City Colors - colour changing wash luminaires - from PSI were used to illuminate the surrounding trees and foliage, which looked fabulous for the wide camera shots.
All the PSI supplied kit was hooked into a Compulite control console programmed and operated by John Gallagher, together with the BBC's Martin MAC 600 washes, and PSI also supplied three Lycian 2.5K follow spots.
PSI has a substantial stock of Chroma-Q Color Block DB4 LED battens and ColorWeb LED mesh products, and Brines' specified both of these products to fill in for certain camera shots and 'black holes'!
A total of 148 panels of ColorWeb 250 were utilised, configured as 5 sets of 2 panel wide by 5 panel high legs each side of the stage, with another 4 columns across the back of stage.
The 50 x Color Block DB4s were arranged on 10 vertical drop bars, hung at various heights across the back of stage, with a three metre gap between the first and last drops. These also looked great on camera, adding dynamics, movement and energy with the constant through flow of video content, which was stored on a Green Hippo Hippotizer media server, also supplied by PSI, and triggered via John Gallagher's console.
PSI's Sean Pagel co-ordinated the rigging details, working on site with David McCready while Joe Byrne and Brian Crowe took care of all the lighting requirements, with Crowe 'babysitting' the event.
Pagel comments, "Naturally it was a great pleasure to be involved in one of Northern Ireland's most prestigious outdoor events of the year. We have an excellent rapport with the BBC NI crew and technicians, and it's always a good experience working with them, and being part of a show that appreciates proper production values".
Contact
Louise Stickland +44 (0)1865 202679 +44 (0)7831 329888 PSI direct +44 (0)2890 814858
E-mail:louise@loosplat.com
Web Site:www.productionireland.com