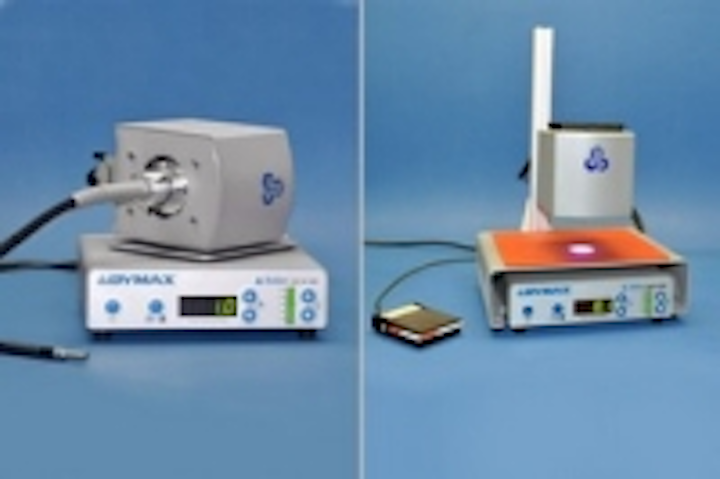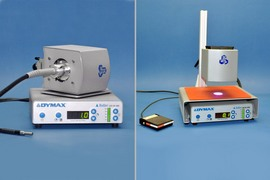 Date Announced: 23 Sep 2011
Torrington, Connecticut – DYMAX Corporation has introduced the BlueWave® LED DX-1000, an LED Light-Curing System designed to provide users with significant advantages over conventional lamp-curing systems including cooler curing temperatures, lower intensity degradation over time, more consistent cure results, lower energy consumption, and reduced costs. The system, which utilizes an environmentally friendly, high-intensity LED light source, can be configured to operate in either small-area flood or spot-cure mode and is clean-room compatible.
The BlueWave® LED DX-1000 utilizes efficiently cooled, high-intensity 385 nm LED light to achieve consistent frequency and intensity output for better process control. The system's adjustable intensity capability and long-life LED facilitates superior accuracy versus "closed loop feedback" or auto-adjusting units, and its lower energy consumption reduces electrical utility costs. With no mechanical shutters or moving parts, the DX-1000 produces consistent, reliable bonds and significantly reduces maintenance downtime.
As the industry leader in LED light-curing technology, DYMAX has developed co-optimized adhesives specifically designed to cure with the BlueWave LED DX-1000, enabling customers to quickly and confidently convert to LED light-curing systems.
For additional information, visit www.dymax.com or contact DYMAX Applications Engineering at info@dymax.com or 860-482-1010. DYMAX Corporation develops innovative adhesives, coating, dispensing, and light-curing systems for applications in a wide range of markets. Major markets include appliance, automotive, electronics, industrial, medical device, and metal finishing.
Contact
DYMAX Applications Engineering 860-482-1010
E-mail:info@dymax.com
Web Site:www.dymax.com