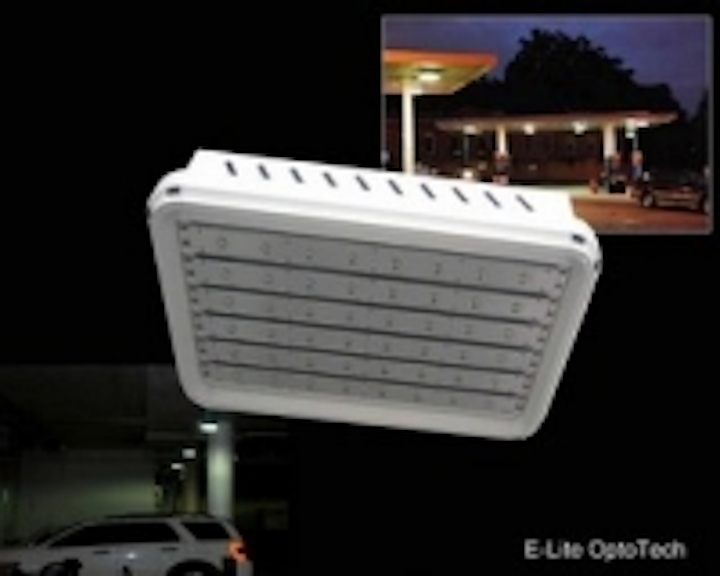 Date Announced: 01 Sep 2011
E-Lite OptoTech Co., Ltd., the China based market leader of industrial level LED lighting products, announces commercial availability of the new LED canopy light range, Omni™ series, from 40W to 120W. Boosted by Cree XP Outdoor White LEDs and an UL listed high-powered driver, the Omni™ series canopy light is IP65 rated for all weather applications and dusty environment.
The Omni™ series canopy light adopts a smart modular design concept, which further improves the heat management while ensuring IP65 protection.
E-Lite Omni™ Series Canopy Light Features:
▪ Complete produce range: 40W, 60W 90W and 120W
▪ Extremely high lux output up to 10880lm
▪ Original Cree outdoor white LEDs, XP-C/XP-E
▪ Original Nichia outdoor white LEDs canopy light also
available
▪ Smart modular design ensures superior heat management
▪ IP 65 rated, water and dust proof
▪ Voltage input 110-240VAC or 110-277VAC, 50/60Hz at choice
▪ Selectable color temperature from 4700K to 5300K
▪ Optional function as IP65 low bay/high bay and tunnel
lighting application
▪ Long operation life time, above 50,000 hours. Low
maintenance costs
▪ Ideal replacement of 120W to 400W conventional metal
halide lamps
▪ Energy saving more than 60%
▪ Environmental friendly. Lead and mercury free
▪ Instant ON/OFF operation, no more waiting for warm up
▪ Superior color rendition compared to conventional
industrial luminaire luminaire
▪ Resistant to shock and vibration
▪ ETL pending
About E-Lite OptoTech Co., Ltd.
E-Lite is a China-based solid-state lighting company specializing in high quality, ultra-bright LED lighting product for commercial and industrial applications. As a leading innovator in high performance LED lighting technology, the company has extensive technical expertise in optical design, thermal management, materials compatibility and automated manufacturing processes. All E-Lite's LED lighting products are CE and RoHS compliant. The Omni™ series canopy light is under ETL testing.
E-Lite is committed to building up distribution network with regional distributor partners, we ask for understanding from end users for not servicing you directly.
Contact
Lynn Yao (Ms.) Director, International Sales & Marketing E-Lite OptoTech Co., Ltd. / JiaYao Group Cell: +86 151 8442 9893
E-mail:lynn.yao@elite-opto.com
Web Site:www.elite-opto.com