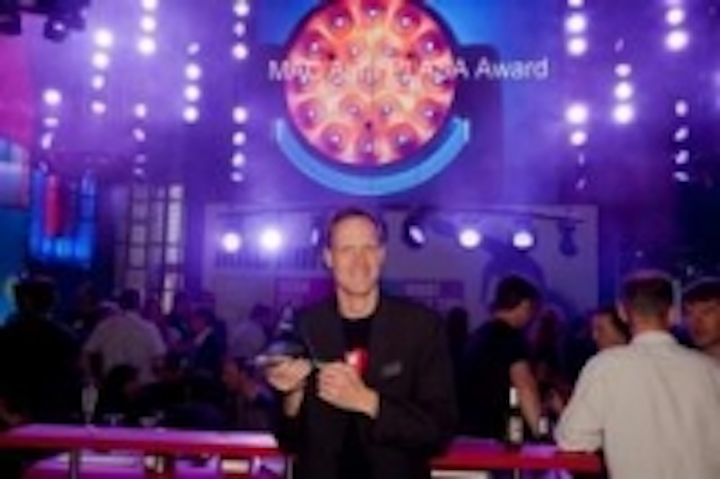 Date Announced: 16 Sep 2011
Martin Professional's new MAC Aura LED moving head wash light is a winner, having walked away with an Award for Innovation at the recently concluded PLASA show in London.
With the words "eye candy… we've never seen it before," PLASA CEO Matthew Griffiths presented Martin Product Manager Peter Skytte with the Award, a recognition of the MAC Aura's ground-breaking optical system that allows for never-before-seen visual effects.
Held on Monday evening on the show floor, the PLASA Awards for Innovation recognize products that advance the industry by demonstrating a new style of thinking or improving technical practice or safety. The MAC Aura is the first compact LED moving head wash light with zoom that uses two independent color systems to produce new eye-candy effects plus functions as a highly capable single-lens wash with fully pre-mixed color.
Anticipation for the new LED wash light was great with the MAC Aura enthusiastically received from day one of the show. Momentum seemed to build as the show progressed with the accolade the icing on the cake. The fixture's combination of multicolor beam LEDs with a backlight LED lens array was also a hit with the many lighting designers that frequented the Martin stand throughout the show.
Martin Professional
Founded in 1987 and headquartered in Aarhus, Denmark, Martin Professional is a world leader in the creation of dynamic lighting solutions for the entertainment, architectural, and commercial sectors. Martin lighting solutions are industry standard on top tours and events, grace prestigious theatres, energize nightclubs, and decorate major television studios around the globe. Other important areas of application are indoor and outdoor architecture and commercial applications where Martin products are increasingly being used to transform spaces through dynamic light. Martin also offers a range of advanced lighting controllers and media servers, as well as a complete line of smoke machines as a complement to intelligent lighting. The company operates the industry's most complete and capable distributor network with local partners in nearly 100 countries. For more information please visit www.martin.com
Contact
Telephone: +45 40 80 57 03 Fax: +45 87 40 00 10
E-mail:larry.beck@martin.dk
Web Site:www.martin.com