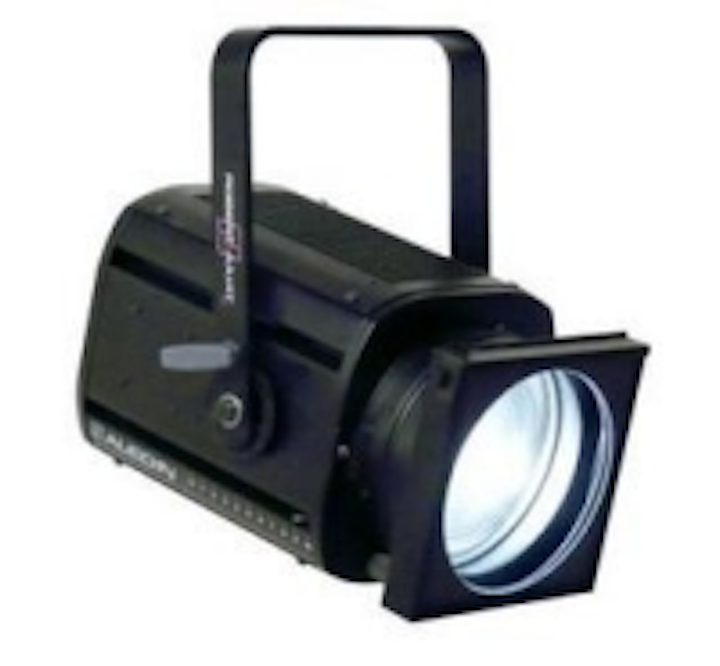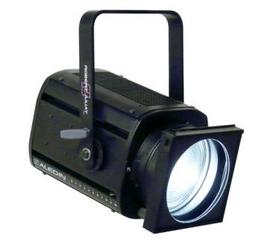 Date Announced: 06 Sep 2011
Robert Juliat will be exhibiting at PLASA 2011 (11-14 September) at London's Earls Court Exhibition Centre where the Aledin 630 LED profile and the new Aledin 330 LED wash light will be presented – the latter for the first time at PLASA.
The new, variable beam angle, 85W LED Aledin 330 wash light is a complement to the award-winning Robert Juliat Aledin 630 LED profile spot, which received the PLASA 2010 Innovation Award.
Aledin wash's popularity has grown as its good report spreads, with television studios, exhibition halls and theatres all choosing to take advantage of its qualities.
Robert Juliat Sales Director, Lionel Garraud, says, "The feedback we are receiving is that customers find the Aledin wash a very powerful LED product which is easy to daisy chain and produces a clean, even beam. The dimming is very smooth with no 'stepping', its strobe feature is useful for concert lighting and the choice of colour temperature lends itself well to exhibition work. The result is a very versatile unit that is proving very popular in multi-function venues and television studios."
Using the same technology and light source as the profile, the Aledin 330 wash offers a choice of two colour temperatures (3500K or 5800K) making it suitable for theatre, studio and event applications as well as architectural and exhibition work. In addition, its flicker-free, integrated, dimmable electronic ballast makes it ideal for camera and studio applications.
Both Aledin Wash and Aledin Profile will be participating in the STLD LED Shootout which is being held throughout PLASA (www.stld.org.uk/events.php). Sponsored by the Society of Television Lighting Designers, which awarded Robert Juliat a 'Golden Spigot' for its 600 Series tungsten profile fixtures, over 25 companies will be showcasing their LED products across four categories in an attempt to answer the question 'Can you light a TV set entirely with LED fixtures?"
The shootout is particularly topical in view of Aledin's recent performance at System Integration Philippines 2011 (18th - 20th August) where Aledin profiles and washes were used by StageCraft International to light a mock television studio with great success.
"We have received positive response on the Aledin Profile and Wash, particularly from the various broadcast companies," says Robert Juliat's Jamie Boey who was supporting StageCraft International at the show. "Most were very impressed with the showcase, especially with regard to the quality of light being captured on the JVC HD camcorder from the Aledin's 85W LED source. Aledin's brightness, beam quality, consistency of colour temperature, together with the flicker free operation, are crucial features for TV camera. We would like to thank StageCraft International, together with Expandore Electronics Pte Ltd and JVC, for making this showcase a success.'
The Theatres Trust, of which Robert Juliat is a corporate sponsor, will also display a warm white Aledin 330 Wash unit on its stand (2-M14) as part of its Ecovenue initiative. In line with this, Aledin 330 Wash has been entered for the People's Choice Award 2011 for sustainable theatrical products. The award is voted for by visitors to PLASA 2011 and the presentation ceremony will take place as the culmination of 'Sustainability Tuesday' on 13 September at 5pm.
Also present on Robert Juliat's PLASA stand will be the mighty 4000W RJ Lancelot, the motorized version of the 1800W RJ MSR Victor and the 2500W RJ HMI Cyrano followspots, the RJ Horus Cyclight and the 5kW RJ Cin'k fresnel, all of which give visitors an indication of the wide range of top quality products available from Robert Juliat.
Come and see the Aledin 330 LED wash, the Aledin 630 LED profile and more Robert Juliat products for yourself on the Robert Juliat stand (Stand 2-P14) in the White Light zone.
For more information on Robert Juliat Aledin LED products, or any of the Robert Juliat range of lighting equipment, please visit www.robertjuliat.com
Contact
Lionel Garraud, Sales Director Tel: +33 (0)3 44 26 51 89
E-mail:l.garraud@robertjuliat.fr
Web Site:www.robertjuliat.com