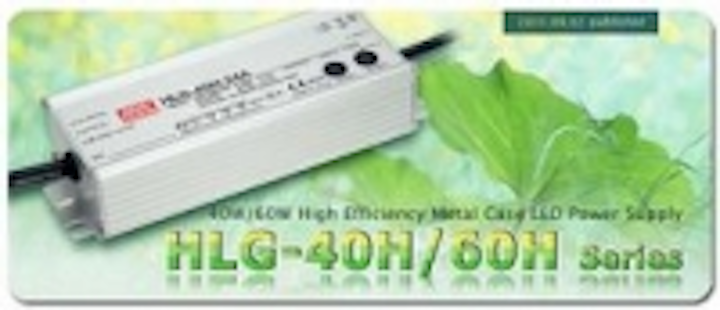 Date Announced: 02 Sep 2011
With the increase of energy cost, the "green concept" of LED lighting, decorative lighting, and indoor/ outdoor waterproof applications are more and more popular. After launching the new generation of high efficiency metal case LED power supplies~HLG-80H/80W, HLG-100(H)/ 100W, HLG-120 (H)/120W, HLG-150(H)/150W, HLG-185(H)/185W, HLG-240(H)/240W, and HLG-320H/320W series, MEAN WELL continuously introduced 40W and 60W lower wattage models~HLG-40H (40W)series and HLG-60H (60W), to fulfill the middle to low wattage LED lighting applications. These two series have four options (A/B/blank/D type) in different mechanisms and input/output design for your selection. A type have two holes on the cover which allows users adjust DC output voltage range from 60% to 100% without opening the case; B type equips with three in one dimming function (1~10VDC, PWM, resistance). Through additional signal output cable, it offers system designers great flexibility for dimming operation and energy saving design; D-type (optional) equips with timer dimming function. After power on the system, D type model will start up the internal timer controlled by the MCU with pre-set counting program that up to three different time period (four different brightness levels) can be set to adjust the output current in each period. According to customer's request, we can define auto brightness adjustment and the brightness level in each period by customizing the program. In the last, Blank type has basic features without voltage and current adjustment function.
Featuring with 90~305VAC wide range AC input, HLG-40H/60H series not only fit for general 115VAC or 230VAC main input, but also can be operated under 277VAC input in North America. Built-in two stage active PFC function, these new series comply with harmonic current limitation per EN61000-3-2 Class C (>60% load). They also fulfill PF>0.9 if loading over 60% and possess 4KV surge immunity (EN61000-4-5) ability which complies with the requirements of street lighting. With up-to date high efficiency topology, they possesses up to 91% of high efficiency, so it can be cooled by free air convection from -40℃ to +70℃ ambient temperature (-40℃ power on at 230VAC and above) that meets the requirements of closed environment with high temperature. Besides standard functions of protections for short circuit, over voltage, over current, and over temperature, these power units comply with global certificates per UL/CUL/TUV/CB/CE including UL8750 and EN61347-2-13 of lighting regulations, which can greatly guarantee your safety.
Contact
MEAN WELL ENTERPRISES CO. LTD
E-mail:info@meanwell.com
Web Site:www.meanwell.com