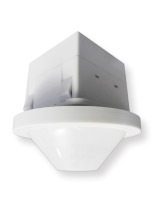 Date Announced: 08 Sep 2011
Taoyuan, Taiwan, -- IR-TEC, a designer and manufacturer of activity sensing products since 1982, recently launched its new LOS-300/310 series occupancy sensor designed for integration with various types of lighting fixture. With minor modification, the existing luminaries can be easily transformed into a state-of-the-art energy efficient smart sensor light with superior energy saving performance.
To provide easy integration with OEM lighting fixture, IR-TEC designed its new occupancy sensor for snap-in assembly via a 43x43mm square opening. The innovative interchangeable lens options offer different detection ranges to meet sensing requirements of various sites. Rotary DIP switch delay time and ambient light level selections make sensor operation setting faster and easier.
The LOS-300/310 series is operated by 110 ~ 277 VAC universal mains power with zero-crossing relay switching protection. Various OEM customers can select model with hard wire push-in terminal or direct wire leads for different fixture connection. The sensor can be integrated with linear fluorescent or LED lighting up to 8 Amp switching facility.
For more information about IR-TEC's newest occupancy sensor series, please contact sales dept. at sales@irtec.com
About IR-TEC
IR-TEC, headquartered in Taiwan, is a professional designer and manufacturer of human activity sensing products, including intrusion detectors for security systems and occupancy sensors for lighting and HVAC operation controls. IR-TEC products are available in more than 90 countries through its authorized distributor network.
IR-TEC is a registered trademark of IR-TEC International Ltd.
Contact
Jenny Ho, Sales Manager TEL: +886-3-2221788 #300
E-mail:sales@irtec.com
Web Site:www.irtec.com