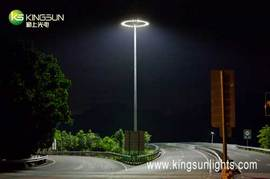 Date Announced: 19 Sep 2011
Kingsun installed quite a large number of high mast lights, say a total number over 1,500pcs, along highways in Shenzhen, China last July.
These LED high mast lights stands at the turnings, each with a height of 30m, 12 to 24pcs of Apollo RL2R 190W street lights on each pole. Due to the heavy traffic on these highways at night, it requires a high lighting efficiency with good evenness and stable performance. After on-site investigation and calculation, our engineer chose the right light distribution system as the solution, which eventually won high comment from terminal users.
As it's a large-quantity LED street light project, quite a great deal of energy and cost will be conserved in the next few years, which would bring more opportunity for all the LED lighting manufacturers.
Lights used in this high mast light project are Kingsun Apollo LED street light RL2R series consumes 190W and produces 11970lm flux.
Contact
Ms Jessie Chow Commercial Executive +86-769-83395678 ext 8096 International Business Department Kingsun Optoelectronic Co., Ltd.
E-mail:ks_sales15@kingsun-china.com
Web Site:www.kingsunlights.com