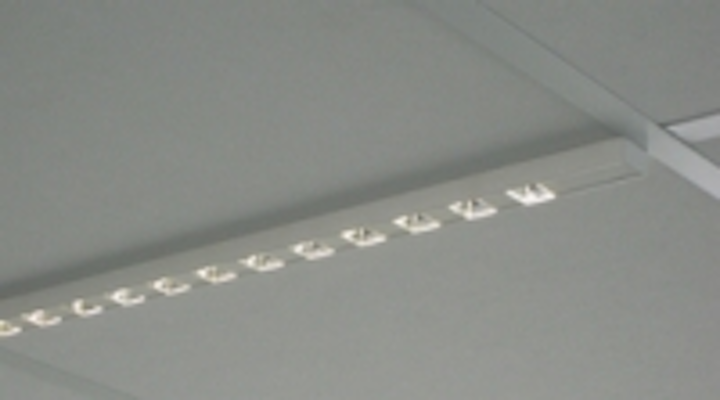 Date Announced: 22 Sep 2011
JLC-Tech LLC announces the introduction of its new LED lights that meet with ETL certification compliances. This new line of LED lights are uniquely constructed, allowing them to be integrated directly into suspended ceilings. T-BAR LED Smartlight™ is the new, innovative, reliable and cost-effective LED light solution to replace fluorescent troffers, now widely used in offices, show rooms, airport terminals etc. This patent pending innovative and minimalistic light-product solution was designed to make the classic 2x2 and 2x4 troffers disappear, eliminating the chessboard ceiling effect.
"Electronics and, of course, LED technology have given us more than just the "green" benefit that we all know and appreciate,", says Mia Antonia, Marketing and Communications Manager at JLC-Tech LLC, "They also allow for the possibility to design lighting solution products in a revolutionary way." The T-BAR LED Smartlight is the perfect example of technology meeting unique design. We see the same happening with LED as we do in many industrial sectors from the cell phone to the computer: "smaller, smarter and more efficient".
The body of the T-BAR LED Smartlight™ is designed to maximize the heat dissipation from the LED maintaining the shape of a standard cross tee of a suspended ceiling system. Therefore, your LED light product is integrated into the visual structure of the grid ceiling.
JLC-Tech LLC collaborated with the most important ceiling companies to make this product suitable for the most popular grid ceiling solutions available on the market today. This allows the T-BAR LED Smartlight to be retrofit into already existing ceilings as well as new installations.
T-BAR LED Smartlight™ is offered in two available dimensions: 2 ft and 4 ft.
The efficiency of T-BAR LED Smartlight™ is 65lm/W. A class II power supply is offered for remote installation, which can run up to five 2 ft T-BAR LED. It adopts high luminous efficiency CREE XP-G LED technology.
The T-BAR LED Smartlight™ is an eco-friendly, solid-state LED lighting system that produces bright, even illumination. It is a smart energy consumption and installation cost reducing product that will improve not only the acoustics but the aesthetic quality of any ambient light. It has a sleek and efficient design.
You may see the product first hand when JLC-Tech exhibits at Greenbuild Expo 2011 in Toronto from October 4-7.
Features & Benefits:
For more product details, please visit:
www.tbarledsmartlight.com
About JLC-Tech LLC:
Bright ideas! JLC-Tech is a young organization born in the year 2009 with the objective to develop new ideas and innovative products to be then introduced into the industrial market for which they were designed. JLC-Tech is specialized in LED Lighting solutions for commercial and residential applications. The founder of JLC-Tech carries almost 20 years of experience in the lighting sector with both national and international expertise.
Customer first! People at JLC-Tech are dedicated to offer the best possible service. Our vendors are all selected among the most reliable and have all operated in the lighting sector for many years. Our logistical platform can manage small or large orders taking the promised delivery date as a commitment.
Made locally! JLC-Tech LLC is committed to bringing back jobs into the country where the products are sold. By using a sophisticated logistic platform our products can be made locally in the global area where they find their market.
Contact
JLC-Tech LLC International Sales Department Fort Lauderdale, FL Tel/FAX: +1-781-585-6368
E-mail:info@jlc-tech.com
Web Site:www.tbarledsmartlight.com