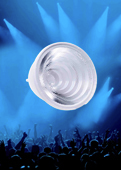 Date Announced: 07 Sep 2011
LED Engin, Inc., a leader in high lumen density LED products, will launch two new class-leading LED solutions for entertainment lighting on stand 2-S11 at the PLASA 2011 exhibition, 11-14th September, Earls Court, London, UK. Full details of 8-degree narrow spot and 15-degree spot TIR (Total Internal Reflection) lenses will be announced.
The lenses, in combination with the company's LuxiGen emitters, will enable up to 36,800cd centre beam candlepower to be delivered from a single LED emitter and lens combination. This enables replacement of an array of high brightness LEDs with a single, compact LED emitter and lens that fits in a fixture less than half the size and provides superior beam control. In addition, the 8° narrow spot lens, coupled with LED Engin's LZC 12-die, multi-color RGB, RGBA and RGBW emitters, provides excellent in-source color mixing for dynamic color entertainment and architectural lighting applications.
LED Engin will also preview forthcoming product announcements during the show, full details of which will be released over the next three months. These will include new tunable white LED emitters and modules, flattop RGBW LED emitters and novel blacklight (UV) emitters.
LED Engin's LuxiGen Platform underpins all of the company's products, which are available as emitters and lenses or integrated modules. The extremely small and reliable packages enable rapid and cost-effective development of fixtures, lamps and speciality lighting wherever bright, high-density, controlled, and well-mixed light is required.
Contact
Nayl D'Souza TechnoPR Tel: +44 (0) 1225 862206
E-mail:ledengin@technopr.com
Web Site:www.ledengin.com