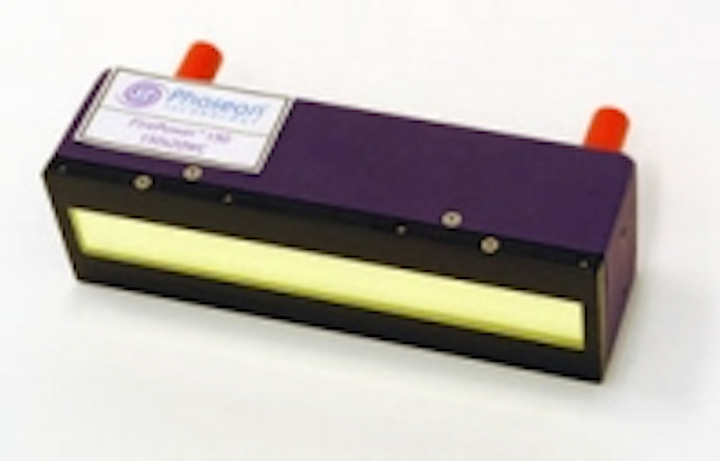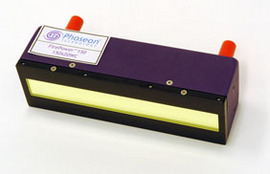 Date Announced: 22 Sep 2011
FirePower™ product family breaks the performance barrier
Phoseon Technology extends its leadership position by introducing the FirePower™ product family with three curing length options, a 150x20 mm, a 225x20mm, and a 300x20mm solution. The water-cooled FirePower family allows new applications in the wide-format digital segment while also allowing system builders to increase their speed in other
applications.
Utilizing Phoseon's patented SLM™ technology, the latest FirePower family provides customers with:
1) High power 16 W/cm2 of UV LED light for maximum UV energy
2) Sophisticated control electronics for simple system integration
3) Advanced structural capability for improved field serviceability
While bringing the three-tiered benefits of UV LED curing (economic savings, environmentally friendly, and new systems capability), Phoseon's products add additional capability with high performance,
maximum UV energy, and outstanding reliability for customer's tough curing environments.
"The three-product FirePower family provides breakthrough performance for system OEMs," commented Bill Cortelyou, CEO and President of Phoseon Technology. "These products prove UV LEDs have the
power and long-life capability to replace older mercury-based lamp technology. Current Alpha-site customers are enjoying the benefits of energy-efficient, reliable, and safe UV LED curing. Phoseon continues to focus its resources and lead the way for making high-performance, high-reliable UV LED curing systems a success."
About Phoseon Technology
Phoseon Technology is a world leader in providing UV LED solutions for commercial and industrial applications. Phoseon's products deliver maximum UV energy, high performance, and real-world
reliability for UV LED curing of inks, coatings and adhesives. The Company provides worldwide sales and support capabilities and can be reached at www.phoseon.com.
Contact
Stacy Volk Phoseon Technology 503-439-6446
E-mail:info@phoseon.com
Web Site:www.phoseon.com