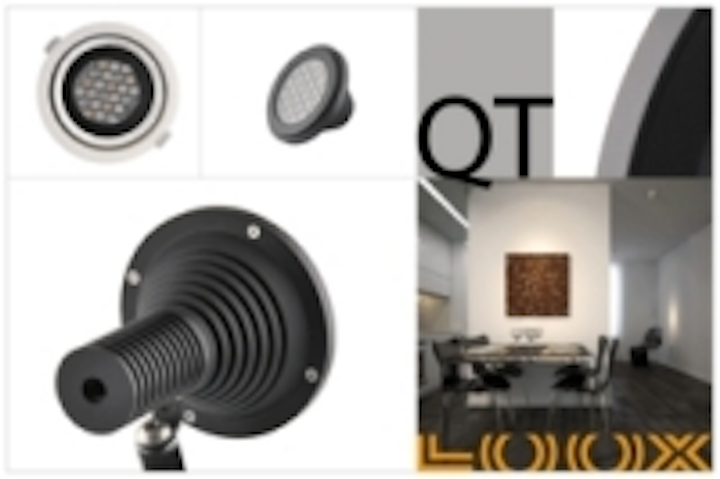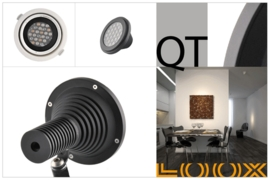 Date Announced: 13 Sep 2011
A new member of the LOOX family.
QT was specially designed to fit into QR-111 housings, but it could also be installed as a free standing fixture with a specially designed base and spigot or hung from the ceiling with optional steal cable attached to the back.
d-led is aiming at the market of architectural LED lighting, developing new solutions for the growing demand of high quality and powerful light output.
Unlike other QR solutions on the market, d-led's new QT can hold up to 24 LEDs , making it the only 25W LED QR available on the market with CRI>90 and high lm/W.
Using the latest Philips Rebel ES and especially custom designed lenses the QT can produce up to 3200 lm LED output and up to 130 lm/W.
Configuration
QT can function in 1/3/4 channels.
1 channel for monochromatic color
3/4 channel configuration for mix of whites or color.
Driver
QT can be connected to a standard constant current LED driver or to a d-led controller for maximum performance.
Protection
d-led Active Thermal Protection is available in the 3 channel configuration allowing the fixture to work with 12 LEDs @ 700mA .
Benefits
• Easily installed in QR-111 housings
• High CRI>90
• Latest Lumileds or Cree LED technology
• Specially designed lenses for optimal performance
• Free standing fixture or retrofit in QR housing.
• Antiglare light output using honeycomb optional accessories.
About d-Led:
d-led was founded in 2004 as a LED division of the Danor Group Ltd., And evolve in 2007 to be a private company that is the Israeli leader of LED based lighting fixtures, drivers and light engines.
d-led excels in the integration of light and cutting edge electronics on the control side, combined with innovation on the design side. Our systems Feature key technological features as Plug & Play systems, Flicker Free Dimming and Active Thermal Protection
d-led's line of products can be developed, manufactured and sold on an OEM basis, as we do for leading lighting brands worldwide.
The company is certified Luxeon Lighting Network manufacturer, a Future Lighting Solutions partner, and an ISO9001 approved company.
d-led's international compliance certifications EMC, FCC, CE, cTUVus, RoHS for our product lines.
Contact
Ofer Keshet VP Marketing & Sales Tel: +972 9 7444 222 FAX: +972 9 7466 426 Cell: +972 54 3091 803
E-mail:info@d-led.net
Web Site:www.d-led.net