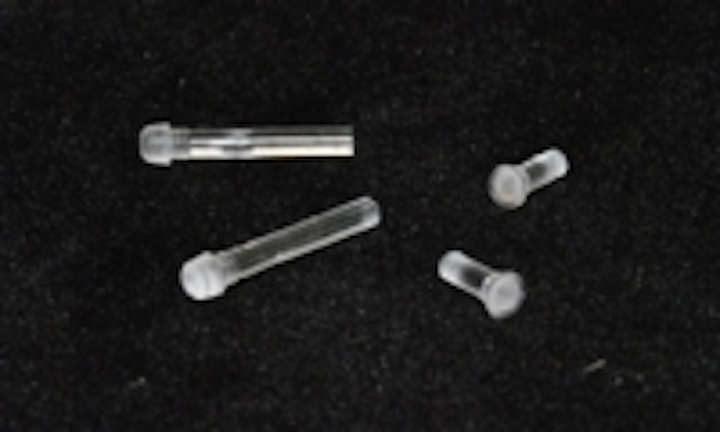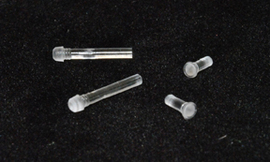 Date Announced: 15 Sep 2011
Elma Electronic, a leading designer and manufacturer of rotary components and optoelectronics, now offers light pipes that are waterproof. The LED light pipes meet IP68 specifications and come in a wide range of options.
Building upon Elma's family of light guides and opto products, a watertight version tested to IP68 is now available. These light pipes can be implemented into a wider range of ruggedized, outdoor, shipboard, and other applications that our standard light pipes. They are ideal where there may be humidity/condensation, rainfall/snow melt, or direct exposure to water. The watertight design is achieved through a special shaping of the light pipe's outer surface which requires a very precise mounting hole.
A wide range of standard shapes for the light pipes are available as well as customized versions. This includes different launch surface options and specific colors that are available upon request. Standard lengths vary from 4.5mm to 100mm. The light used use a high-quality and rugged PC clear material to UL94. The ambient temperature ranges for the guides are -20°C to +50°C.
For more information on Elma's switches, knobs, LEDs, and custom design services, please contact Mark Thorsell at 510-683-8428.
About Elma Electronic
Elma Electronic Inc. is a leading manufacturer and supplier of enclosures, backplanes, cabinets, cases, and "ready-to-run" packaging for CPCI, Rugged COTS, VME/64x, VXI, PC and custom bus structures. Elma's component product line offers a wide selection of top quality switches knobs and LED/opto products. The company has been a worldwide supplier of dependable, high performance products for over 35 years. Elma operates three facilities in the continental United States plus has locations in Switzerland, Germany, France, the United Kingdom and Israel.
Contact
Mark Thorsell Sales Manager, Rotary Switches Elma Electronic Inc. 44350 Grimmer Blvd. Fremont, CA 94538 Phone: 510-656-3400
E-mail:mark.thorsell@elma.com
Web Site:www.elma.com