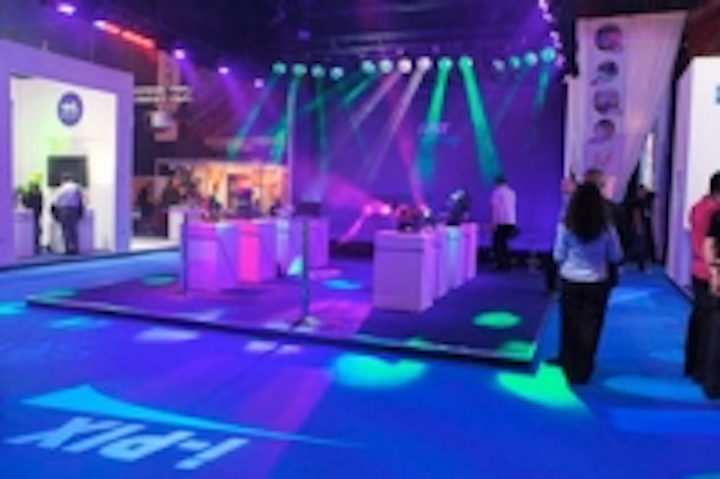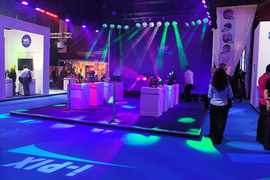 Date Announced: 25 Sep 2011
Specialist UK LED manufacturer i-Pix enjoyed their "Best" PLASA exhibition to date last week at Earls Court in London, showcasing and previewing a number of new and unique LED products ideal for the entertainment and event industry professional lighting sector.
Once again, i-Pix maintained its niche for delivering unique and genuinely innovative LED technologies which are trail-blazing and completely different from those offered by others.
The new higher powered light engines available across the full i-Pix BB range of fixtures were particularly well received. Each new BB now emits four times the light output for the same power consumption, and the RGB light engine has been enhanced with a new green LED, improving the colour mixing CIE triangle available across the whole BB range.
The newly launched i-Pix Satellite Mk II, was a hit, also featuring an increased light output, extra functionality and a very handy battery pack for portable situations and challenging locations.
However, the biggest buzz was around the new i-Pix Beamlight which was previewed for the first time, generating huge amounts of positive and highly constructive feedback.
This brand new fixture offers a new high brightness/low power alternative to the classic rock 'n' roll ACL 'strings', presenting similar stunning crisp, powerful beam effects in a far more flexible and energy conscious package.
Making it different is the exceptionally precise reflector which magnifies the light engine, and achieves a tighter beam due to its large surface area. The high power light engine 'fires' into the reflector, where maximum energy is collected and bounced out to form the beam. It is exceptionally tight and sharp - with no other optical devices to reduce or dilute the intense efficiency. With each colour, only 10 Watts of energy is consumed even when at full.
This is what so impressed everyone at the show!
When compared to a conventional ACL 240 Watt tight beamlight on full intensity, the i-Pix Beamlight is currently about 80%, expected to be higher in the first production units, so in open white, this will mimic a traditional ACL. The huge benefits are full digital control of four colours - red, green, blue and daylight white - combined into the one super high power light engine.
The Beamlight light engine is passively cooled without any forced air, making it a totally sealed fixture. The unit's focus goes from -35° to 5° to +35° adding a range of 'other' totally unique possible looks and effects.
It is fully true to the i-Pix principals of creating something new yet familiar, continuing the theme of producing viable alternatives to power hungry fixtures using modern LED technology ... with those special i-Pix design 'twists'.
There were also numerous comments on the aesthetics - along the lines of 1950's Americana meeting futurism - "This maintains my future/retro vibe!" quips i-Pix founder and inventor, Chris Ewington.
Many designers saw the potential for using Beamlights over traditional ACLs not just as a straightforward one-to-one replacement, but also from the perspective of creating new dynamic lighting effects - aided by the functionality of the unit. The adjustable beam was a popular feature and helped spark many imaginative suggestions and ideas for different and diverse applications.
i-Pix also strengthened its distribution network at PLASA, using the opportunity to finalise several new appointments - to be announced in coming months - plus meeting and bolstering many existing agents and dealer relationships by and introducing them to the latest products and future visions.
By developing new lighting products that continue to complement the existing ranges, i-Pix is constantly adding value and scope to the creative tool boxes of lighting, visuals and scenic designers working in all disciplines from entertainment to architectural.
Contact
Louise Stickland +44 (0)7831 329888 +44 (0)1865 202679 or i-Pix direct +44 (0)161 443 4140
E-mail:louise@loosplat.com
Web Site:www.i-pix.uk.com