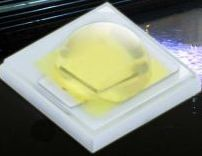 Date Announced: 09 Nov 2011
Everlight Electronics Co, Ltd (TSE:2393), based in Tucheng, Taipei, a global provider of LEDs, is now offering its customers a 3-step MacAdam Ellipse binning of all warm white color temperatures -- 2700K, 3000K, 3500K, and 4000K CCT -- for the Shuen (C06) and Shwo (C19, shown) high-power lighting LED series. The company's Smart Binning initiative is aimed at reducing the variation in chromaticity in lighting applications.
In lighting applications, color consistency is a key determinant of a product's quality and appeal. This consistency is not only determined by the control of chromaticity from LED to LED inside a product but from one completed product to the next. Before, two solutions were possible to obtain color consistency.
One way was to mix different color bins of an LED onto a single board to achieve a certain CCT. However, this solution requires complex mathematical algorithms to ensure a balanced CCT and relies heavily on secondary optics to diffuse and assist in mixing colors. This is a valid solution but very time consuming on the manufacturing level.
Another solution is to negotiate extremely narrow binning from an LED manufacturer. This is not cost effective and may affect availability and lead times, due to yield distribution on the LED manufacturing level.
Everlight's Smart Binning allows for an easier, alternative solution to maintaining color consistency in lighting applications. No bins need to be selected and clustered based on complex calculations. Everlight simply offers part numbers for each warm-white CCT that represents a 3 step MacAdam ellipse, This is the easiest and most effective way to manufacture color-consistent lighting applications.
About Everlight Electronics Co. Ltd.
Everlight Electronics Co., Ltd. was founded in 1983 in Taipei, Taiwan.
Playing a critical role in the formation of the global LED industry, the company has rapidly ascended to become a leading supplier due to its dedication to certification, R&D, production, quality, marketing and global customer service. Everlight provides a diverse product portfolio consisting of High Power LEDs, Lamps, SMD LEDs, LED Lighting Modules, Digital Displays, Optocouplers and Infrared Components for various applications. Today, Everlight is a global company with over 6,400 employees based in China, Hong Kong, Japan, Korea, Singapore, Malaysia, Germany, Sweden, US, and Canada.
Contact
Beate Jungwirth Manager Marketing Communications and PR E-mail: pr@everlight.com
E-mail:pr@everlight.com
Web Site:www.everlight.com