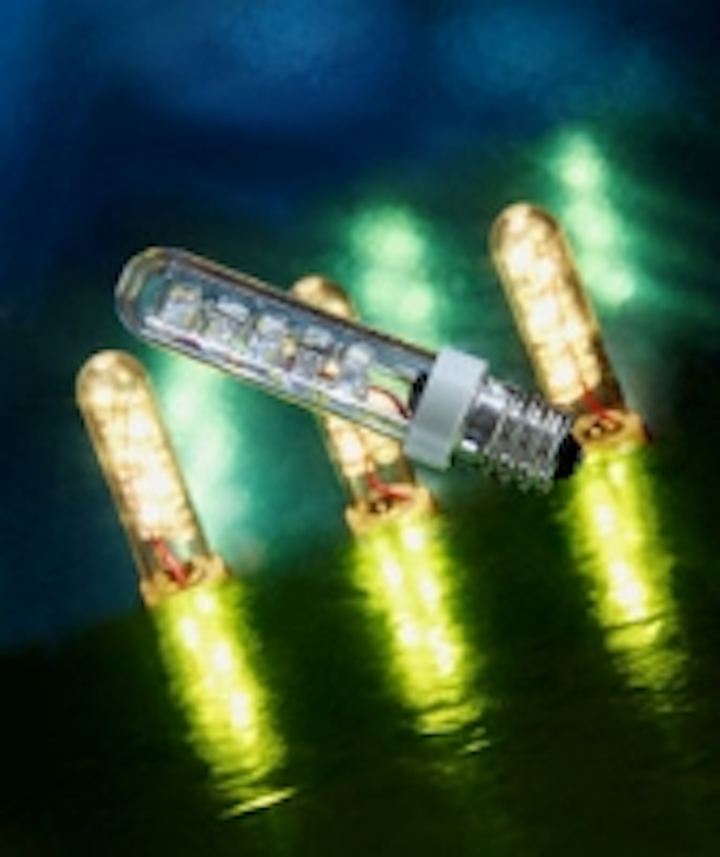 Date Announced: 03 Nov 2011
Torrance, Calif. - LEDtronics® announces another of its energy-saving LED light bulbs: the LED15T4 -SIW-120A T4 tube bulb with an E12 candelabra base and 120A input voltage. The 0.9-Watt consuming LED tube bulb replaces incandescent bulb numbers 15T4, 15T6/CB/130, 15T7/CB/130 and GE 15T7C 13494 up to 15 Watts.
The LED15T4 series boasts more than 23 lumens and a spherical candela of 1.84 while drawing just 0.18mA current. This translates into an efficacy of 23.1 lumens per a watt of energy. It provides a warm-white light in the range 2800K to 3200K and is ideally used in indicator lamps, theater aisle seats, night lights, step lights and decorative lighting. It easily installs in any fixture with an E12 candelabra base.
With the 50,000-hour lifespan of white LEDs, the LEDtronics LED15T4 series lamp offers 50 times the average 1,000-hour rated life of an equivalent filament T4 bulb. With the 94% energy reduction compared to a 15-Watt incandescent bulb, savings from greatly extended life, reduced maintenance costs and major reduction in energy usage quickly return the capital investment expenditure, making the LED bulb as friendly to the environment as it is to the operating budget.
A clear, shatter-resistant polypropylene lens and a Rynite® sleeve protect the LEDs from environmental stress, while the solid-state design renders them impervious to electrical and mechanical shock, vibration, frequent switching and environmental extremes. LED lamps produce almost no heat and do not get hot to the touch. The LED15T4 -SIW-120A T4 tube bulb operates in an ambient operating temperature range of ~-22°F to ~+122°F.
The LEDtronics LED15T4 series bulbs comes with a 3-year limited warranty and is priced $18.53 each; availability is stock to 4-6 weeks for special requirements. Large-quantity discounts are available.
For technical information or for custom design and/or manufacturing needs, contact Jordon Papanier at 310-534-1505 or e-mail us at info@ledtronics.com, or postal mail at LEDtronics, Inc., 23105 Kashiwa Court, Torrance, CA 90505. Visit our website at www.LEDtronics.com
About LEDtronics®
Based in Torrance, California, LEDtronics, Inc., since 1983 has been a world leader in designing, manufacturing and packaging Solid State Lighting products and state-of-the-art LEDs to meet the world's constantly changing lighting needs—from industrial control panel LED indicator lights to solid-state LED street lights, from direct incandescent- replacement based LED bulbs to direct fluorescent-replacement T8 LED tube lamps.
Contact
Jordon Papanier 310-534-1505
E-mail:info@ledtronics.com
Web Site: www.ledtronics.com/Products/ProductsDetails.aspx?WP=786