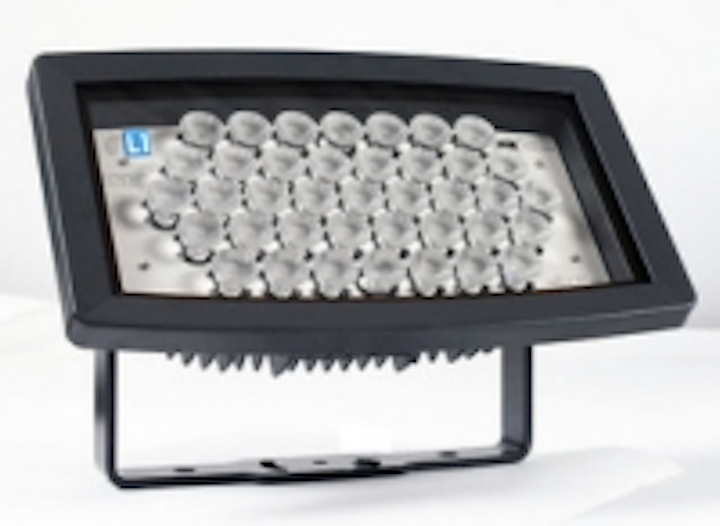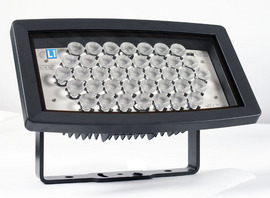 Date Announced: 13 Nov 2011
South Korea based LED maker, L1, Recently lauched an intelligent LED RGBW LED light, the fixture has built-in CPU that eables itseft to screen and mangage LEDs' junction temparature for its best performance and longevity.
Features;
- Real-time temperature monitoring of LEDs and main board of the fixture
- ON/OFF time schedule with a built-in real time clock
- Stand alone and Master/Slave configuration without
a DMX console
INTELLI-RGBW FLOOD light is an ideal product
for landscape and commercial outdoor
lights. It offers plug-and-play running
with the stand alone mode as well as
compatibility with DMX512. Its internal CPU
monitors the temperature sensors on the
metal LED PCB and power board to ensure
the best performance and protection of the
fixture. When the CPU detects excessive
heat inside the fixture it reduces light
output until normal temperature returns.
Full light output is then restored. This
prevents premature degradation of LED
light output and shortened life expectancy.
Specifications;
Length 354mm/Width 208mm/Height 114mm/Weight 5.0Kg
LIGHT SOURCE
LED OSRAM, 39LEDs-R10,G10, B10, W9
Color RGBW color changing
Beam angle 15/30/60 degree
CONTROL
DMX channels 4
Setting and addressing L1 interface
Protocol USITT DMX512-A, 16bit
Standalone Manual program with L1 interface
TYPICAL POWER AND CURRENT
220V 60Hz 100W, 1.2A
110W 60Hz 95W, 0.7A
CONSTRUCTION
Color Dark Grey
Housing Aluminum die-cast
Front cover Hard coated acrylic
Protection rating IP67
CONNECTIONS
Power connection 3m external cable without power
plug
Data connection Waterproof In/Out connectors
ELECTRICAL
AC power 90~264VAC, 127~370VDC
TIMER Internal real time clock On/Off
time scheduling
PROTECTION Over temperature protection
Reduce output voltage, Re-power
Approval cETL pending
About L1
L1, (LIGHTING NUMBER ONE)
LED lighting Solutions company dedicated to advancing solid-state LED technology in lighting applications. We combine manufacturing and lighting design to supply high quality, environmentally friendly lighting fixtures and a customized lighting design service for every project.
L1's major markets are architectural, the commercial / industrial, entertainment lighting and specialty niche market applications. L1 is a Korea manufacturer and supplier with marketing / sales efforts throughout the world with concentration currently on North American, South American, Asian, Australian and European markets
Contact
Contact; Tel : 82 70 7719 5038 Fax : 82 2 6455 8561 Email : steve@l-1.kr Address; 609, 5th floor, Tool building, 516, Garden5, Munjeong-dong, Songpa-gu, Seoul, Korea 138-200
E-mail:steve@l-1.kr
Web Site:www.l-1.kr