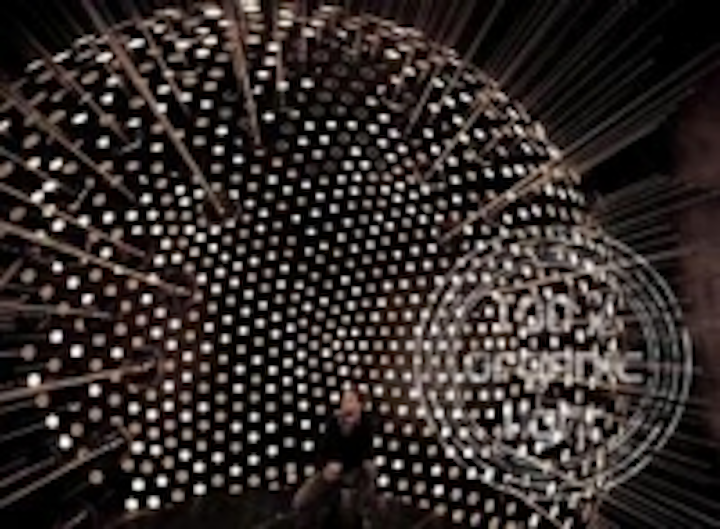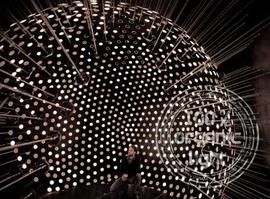 Date Announced: 11 Nov 2011
When the new Design Fair 'Qubique' opened its doors at the Tempelhof airport in Berlin, visitors were in for a special treat – in the truest sense of the word. labme, the open source design platform, newly initiated by Osram, awoke interest from a distance due to its dramatic 6m high cubic structure. The courageous visitors who climbed the ramp and entered the installation took a step toward the future. Soon, OLED technology will not only determine how light is designed and handled, but also become a fundamental part of modern light design.
Installed on a 12m x 12m surface area, the installation was not only accessible, but also interactive. Consisting of more than 1362 light modules, it was the largest installation of its kind. The slender 2mm thick OLED glass light elements could be experienced three dimensionally, which had been exclusively created for the Qubique trade fair. By way of sound and motion sensor techniques, accessing the installation became a sensory sensation making visitors doubt their own perception.
The designer Simon Brünner turns his first OLED luminaire product (Supernova) inside out, from which he manages to create an accessible architectural light installation. The luminaire grows from its inner core outwards to create a sphere. When this principle is reversed, a sphere can be found with rods growing outwards to complete a cubic structure. This is how remarkable architectural perspectives are developed through the simple geometric formation of objects. On entering the installation, the spectator experiences a sensation of shifting dimensions and an unforgettable sensory experience is guaranteed.
OLED modules are characterised by their special illuminating power, together with the flexible arrangement possibilities, and are setting the standards for paving the way into an ecologically balanced future. (words: 288)
who we are
labme is an open source design platform for the creative usage of OLEDs – the future-oriented new light-creating technology, which was developed by Osram, as one of the main parties. Simon Brünner, the head and founder of neuesLicht, is the platform's acting Creative Director. Visionary and courageous interaction with this exciting new technology is needed, to help pave the way for cooperation between strong creative minds and the industry.
labme is looking for any kind of cooperation or contribution. The platform will be a playground for everyone involved, as well as, a reproductive source of inspiration for every visitor. It already exhibits the largest selection of OLED designs.
labme offers the possibility to support the development process, even with material, in order to realize visionary ideas.
Contact
Petra Schmeißer Tel.: +49 911 254 254 80
E-mail:petra.schmeisser@labme.org
Web Site:www.labme.net