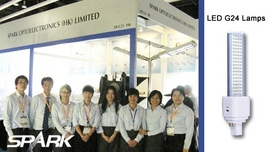 Date Announced: 18 Nov 2011
October 27, 2011 -30, Shenzhen Spark Optoelectronics T&S Co., Ltd. attended the Hong Kong Lighting Fair Autumn 2011, hold at HK Convention and Exhibition Centre, organized by the HKTDC.
In addition to the traditional strengths products such as LED street lights, LED tunnel lights, LED traffic light and other outdoor lighting, Spark grandly displayed LED down light, LED panel light, LED tri-proof lights, LED G24 light and other LED indoor light. To become one of the exhibitors with most completed product range, with highest quality at the Hong Kong Exhibition. Visitors come in an endless stream.
Spark LED down light adopts high brightness Philips Lumileds LED, with excellent color consistency and high light efficiency, beautiful appearance and excellent craftsmanship, steady growth in sale. Customer like it very much and can't help to take pictures.
LED tube light is Spark's tradition advantage products, with lead technology and a number of certifications; we have made some market share in many countries. Customers are impressed to be told that our led tubes can be approved with VDE, and they showed great interest to talk with Spark sales about later co-operations on this product.
G24 Horizontal Plug lights and LED trip-proof light is Spark's newly developed products. Through a detailed market survey and the collection of customer suggestion, we find these products are widely used with good market prospects. As expected, the products attract many professional visitors, especially European customers. Some even take sample on site.
The whole exhibition process, Spark 18 square meters booth is overcrowded, which fully shows Spark's strength. The great success of the HK exhibition make us more confident, we believe in that Spark will achieve better and more long-term development in LED industry!
Contact
Keziah Song General Manager Tel: (86 755) 8390 4366 Fax: (86 755) 8390 4766
E-mail:sales@spark-oe.com
Web Site:www.spark-oe.com