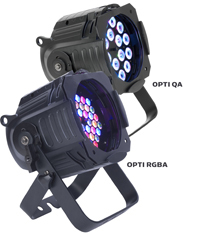 Date Announced: 03 Nov 2011
Los Angeles - Amber, the color of caution on roads, is "stopping traffic" in a different way in two exciting new LED par cans from Elation Professional: Opti RGBA and OPTI QA.
The Opti RGBA is a compact yet powerful stage wash that produces an infinite rainbow of eye-popping colors via its 36 1-watt LEDs: 10 Red, 10 Green, 10 Blue and 6 Amber.
The Opti QA is the same case design but is powered by 18 x 5W RGBA LEDs that feature Elation's exclusive Quad-Color technology, combining red, green, blue and amber in one LED source
Adding amber to the LED mix gives the colors a deeper, more zesty glow, making the Opti RGBA an ideal choice for a wide variety of stage, theatrical, concert, video and display applications, where a warmer-toned wash is desired.
"We developed the Opti RGBA as an updated model to our popular Opti RGB with improvements for lighting pros who want the same great features but more color range as well as power con in/out," said Eric Loader, Director of Sales for Elation Professional.
"The Opti QA has the homogenized Quad-Color color mixing found in our popular RGBW Opti Quad Par, but with a better warm white and deeper saturated colors," added Loader. "Where the Opti Quad Par has red, green blue and white LED sources and produces a great cool white and pastels, the new Opti QA substitutes amber for the white, which gives you a superior warm white and makes all the colors appear more robust and deeper.
"The Opti QA is really a great complementary light to the Opti Quad Par," said Loader. "Together they cover all the bases, and both have the same terrific pro features, like homogenized Quad Color mixing, which puts them on the cutting-edge of high-performance LED pars."
Among the great features that both the Opti RGBA and Opti QA share with their cousins are a sleek, compact design and rugged die-cast aluminum case, which make them perfect for touring productions and concerts. With their flicker-free operation, they are also ideally suited for TV and video production.
Featuring both DMX and manual control, the units come equipped with DMX 3- and 5-pin connectors and Powercon In/Out. A convenient LCD display on the rear allows users to select the operational mode and easily scroll through settings.
Built-in programs, dimming and a strobe effect further add to the Opti RGBA and Opti QA's versatility. Other features include multi-voltage operation (100-240V, 47-63 Hz), and an integrated dual yoke bracket that allows the units to be floor mounted or hung from overhead.
The cETLus approved fixtures conform to the highest quality and safety standards and meet the certification requirements of virtually any installation or venue. The compact, easily transportable par cans measure 11"L x 8.7"W x 14"H / 278.1 x 220.6 x 358mm and weigh 10.6 lbs / 4.8kg.
Contact
Elation Professional 866-245-6726
E-mail:abby@fucinipro.com
Web Site:www.elationlighting.com