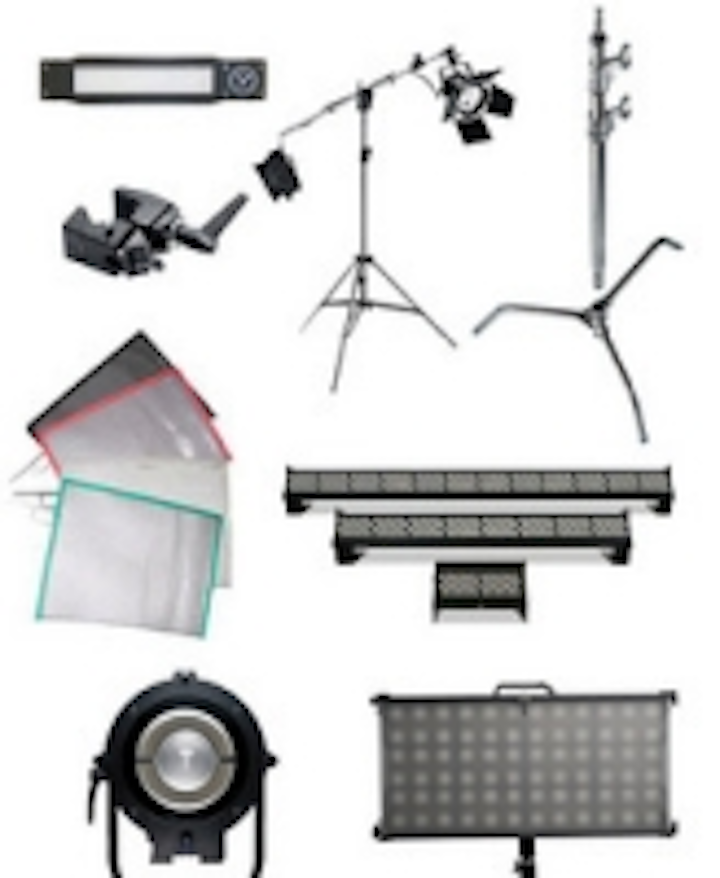 Date Announced: 06 Nov 2011
A.C. Entertainment Technologies (AC-ET) Ltd's lighting division will showcase the latest cutting edge film, television and broadcast products from its key distributed brands at the BVE North show, Manchester Central 16th & 17th November.
Chroma-Q™'s powerful, innovative Color Force™ and Studio Force™ LED battens and fixtures will be highlighted - specifically the new Studio Force LED range - which has been designed for TV, film, studio and touring applications as well as exhibitions, corporate events and theatre shows.
Studio Force is available in 12" (300mm), 48" (1.2m) and 72" (1.8m) versions, and the range features a choice of 6,100K CCT, daylight white (Studio Force D) and 3,000K – 6,100K CCT, variable white (Studio Force V) models – between them providing an extreme output ranging from 5,300 up to 28,000 lumens!
Utilising the same renowned core technologies as the innovative Chroma-Q Color Force range, the six Studio Force white LED models all offer at least twice the light output of their RGBA colour variants. A sophisticated custom optical design provides a smooth, uniform wash output with no blockiness or pixelation, complete with 'theatrical grade' dimming characteristics.
AC-ET carries one of the largest stocks of Manfrotto and Avenger stands and grip in Europe, and will highlight a selection of the vast array of equipment available from both. These products are universally popular and regarded as industry standard in all areas of professional film, TV, broadcast and studio lighting.
Mole Richardson - a legendary name synonymous with the very best in cinematography - offers a full range of white and soft light options, and is another very successful AC-ET product range in this sector.
Prominent on the stand will be the latest MoleLED soft lights, including the MoleLED Single, a lightweight go-anywhere, rig-anywhere LED lighting solution designed for use in interviews or on news desks; for car rigs or as an all-purpose OB light and illuminating lecterns and podiums. Available in tungsten, and daylight kits or a combination of both, it's powered remotely from the 6-Pack Controller. The Single can be daisy-chained up to three in a row and remain individually dimmed and switched from the controller.
The latest MoleBeam tungsten and daylight ranges will also be highlighted - featuring 2, 5, 10 and 20K tungsten fixtures and 1.2, 2.5/4K and 12K daylight fixtures.
The newest LED technology from Gekko will include their comprehensive range of lightweight and versatile LED based white source units. The multi-purpose karesslite fixture and the consistent and focusable kedo luminaire will be featured on the stand. Other products in this range include the k-lite, kicklite, kuelite, lenslite, kisslite, kezia, and the kelvin tile soft panel.
From Daylight Textiles, AC-ET will feature high quality flags, silks, scrims, butterflies and a versatile range of textiles, fabrics and soft goods for universal use in film, TV and stills lighting. All have been rigorously location tested and developed to complement all the popular ranges of industry standard lighting fixtures.
AC-ET Express services
AC-ET also highlights its renowned and super-efficient Cable, Lamp and Scroll Express services.
Cable Express: Probably one of the best and quickest responding cable assembly facilities in the industry, AC-ET stock thousands of kilometres of data, mains and multicore cable and a huge range of connectors. Cable Express assembles anything from a Cat5e cable through to a BAC mains cable. Last minute orders are the company's speciality.
Lamp Express: Supplies everything from a P2-13 up to an HMI 18kW lamp. All recognised brands are stocked, including GE, Osram and Philips. Lamp Express keep a huge stock in the High Wycombe and Leeds warehouses and offer competitive pricing.
Scroll Express: Stockholding includes over 4,000 rolls of filter and nearly 200,000 pre-cut colour sizes for all major luminaires. All recognised brands are stocked, including GAM, LEE, Rosco and ProColor filters.
Photo Caption: Mole Richardson Single, Manfrotto boom stand, Avenger stand, Avenger clamps, Daylight Textiles, Chroma-Q Studio Force range, Gekko Kelvin and Karesslite.
Contact
Louise Stickland +44 7831 329888 +44 1865 202679 A.C. Entertainment Technologies Ltd. +44 (0)1494 446000
E-mail:louise@loosplat.com
Web Site:www.ac-et.com