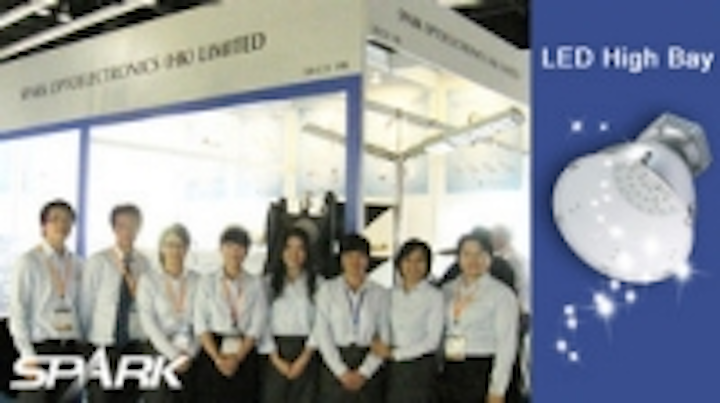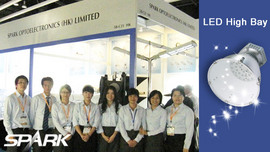 Date Announced: 10 Nov 2011
The largest autumn lighting fair--HongKong Autumn Lighting Fair was closed on Oct 30th (Oct 27-Oct30). There are over 2100 exhibitors from 31 countries and regions showed their latest products and technologies on it. All 390pcs brands emphasized the subject of green and innovation, and the highlighted products are the colorful lighting luminaires with various shapes.
As the leading enterprise in LED lighting industry, Shenzhen Spark Optoelectronics S&T Co., Ltd. demonstrated newly LED products with their characteristic innovation style. The most attractive one is LED high bay which with CREE led chips (the power are 90W and 120W). The excellent power supply was independently researched and produced by SPARK (the core components are come from international top brands, such as Japanese Rubycon capacitor, NS & ST IC etc), and the housing is made from 2mm aluminium alloy with silver oxidation finish coating which seems elegant.
Meanwhile, the inner coating is nano materials that can improve the inflection rate greatly. Furthermore, SPARK is developing higher power one, such as 160W, 200W. Please pay close attention to them. YOUR LIGHT, WE CARE!
Without any polluting elements like lead and mercury, LED high bay is green and energy saving product. To compare with the sodium lampenergy, LED high bay can save more 65% energy, the saving effect is obviously. Also, it is very easy to install and dismounting, and can be replaced other traditional lighting products, it is suitable for shipyards, mining works, workshops, plants, gas station, supermarket, exhibition hall, gymnasium and other large spaces.
Contact
Keziah Song General Manager Tel: (86 755) 8390 4366 Fax: (86 755) 8390 4766
E-mail:sales@spark-oe.com
Web Site:www.spark-oe.com