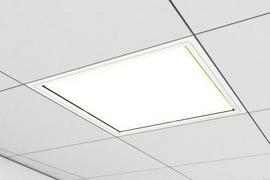 Date Announced: 17 Nov 2011
GE Lighting has launched the Lumination® LED Luminaires range. The ground breaking application of LED technology offers the first true alternative to LFL lighting within an office environment, making significant energy savings a commercial reality and introducing full dimming capability and unrivalled architectural styling to both retrofit and new build projects.
The luminaires create a perfect blend between architectural aesthetic and technical performance and feature an ultra-thin "waveguide" with built-in LED technology that offers a seamless and hassle-free transition from existing LFL fixtures to a solution that will maximise the full potential of LEDs.
Lumination LED Luminaires use complex optical control technologies to deliver bright, diffused light to both walls and ceilings. Furthermore, their unique optical design introduces illuminated zones directly into the ceiling plane. This delivers a vibrant lit workplace and enhances the room surfaces in excess of those demanded by CIBSE guidelines. Lumination LED Luminaires create a pure aesthetic in harmony with other key building elements, ensuring total integration within the space.
Simon Fisher, Indoor Luminaire Solutions General Manager for the EMEA region, said: "The most common question I get asked by customers is when will the time be right for me to jump into LED technology? Well, for the office environment the time is now, with Lumination LED Luminaires offering significant savings in energy and maintenance costs at a time when the pressures to squeeze costs and operate responsibly have never been greater."
"The performance benefits of Lumination LED Luminaires compared with fluorescent lighting include energy savings of up to 50%, longer life, slimmer profile, innovative form factors and lighting control, such as full dimming capability. As an LED system, the luminaires also provide environmental and ease-of-recycling gains derived from not containing mercury or other hazardous materials."
"Lumination LED Luminaires have been designed to harmonise with the aesthetics of a modern office environment, ensuring total integration within the space."
The new GE Lumination LED Luminaires are now available in a recessed 600mm x 600mm format, with additional recessed versions and also a range of suspended luminaires - that will appear to float in thin air through a dramatically framed light source - available from mid-2012. Each luminaire will feature high-quality transparent or opaque light panels coupled with MicroLens™ technology that allows lighting designers to do more with the luminaire's light output.
The LED technology and optical performance of the new luminaires work in tandem to eliminate the hot spots common among fluorescent options. Each luminaire will deliver uniform, bright light—both diffuse and directional—in a thin design that allows for a clean appearance. The controlled contrast functionality of the new GE Lumination LED Luminaires will allow a user to enhance a room's overall aesthetic.
Features overview
• High CRI — A CRI of 80 or higher ensures a welcoming environment.
• Long Life — Each luminaire will carry a minimum rating of 50,000 hours @ L85 (eight years at 12 hours of use each day), compared with a 20,000-hour rating for traditional fluorescent fixtures.
• Reduced Maintenance Costs — Ultra-efficient LED technology will reduce the frequency of re-lamping.
• Instant Start — The LED luminaires turn on instantly without flickers, socket shadows or hot spots.
• imming Capabilities — Each product will be dimmable in Digital (DALI) and Analogue (1-10V) formats. This feature allows Lumination LED luminaires to be integrated into a central control system.
• Environmental Benefits — In addition to its energy-saving lighting components, each luminaire includes materials that can be recycled at the end of life. The LED luminaires do not contain any mercury, lead or glass, making handling and disposal less of a concern.
• Five-Year Limited Warranty — GE will help protect users against unexpected repairs.
• Upgradable — Replaceable light engines will be available at the end of the products' useful light life, saving the expense of purchasing entirely new luminaires and allowing for an upgrade to the newest LED packages.
Contact
Gerry Cherry CIB Communications Riversway Leatherhead Bridge, Guildford Road Leatherhead, Surrey, KT22 9AD Tel: 01372 371800 Fax: 01372 371801
E-mail:pradmin@cibcommunications.co.uk