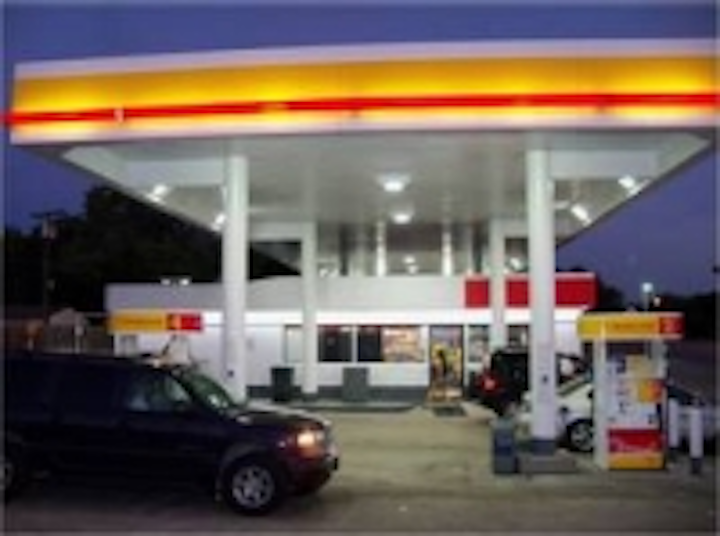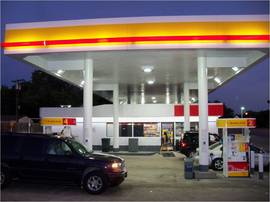 Date Announced: 09 Nov 2011
Milpitas, California – Leotek Electronics USA Corp. has assisted yet another convenience store in making the energy and cost saving transition to LED lighting. The latest convenience store to benefit from Leotek's innovative LED technology is Quik-Way Shell in Irving, Texas. After Leotek's LED lighting was installed, the store's utility bill dropped by over 60%. With Leotek's five-year limited warranty and long life LED technology, maintenance has been virtually eliminated, dramatically reducing the annual operating costs.
Four 400W MH 2'x2' surface mounted canopy fixtures were replaced by Leotek LCN1 Series 96 LED Canopy Luminaires. Sixteen 400W MH corner mounted canopy fixtures were replaced by Leotek LSF1 Series 60 LED Soffit Luminaires. Around the perimeter of the building, one-hundred-twenty linear feet of 70W T12 cove mounted fluorescent fixtures were replaced by twenty-four Leotek CL5 Series 5' Lite-Stiks, creating a brighter environment and sending a clear "we're open and you're safe" message to consumers. Quik-Way Shell benefits from significantly improved quality of light and light levels, and a better represented brand image.
About Leotek
Leotek Electronics USA Corp., located in Silicon Valley, California since 1997, is globally recognized as a pioneer in light-emitting diode (LED) technology. With millions of LED products installed throughout the United States, as well as on a global scale, Leotek offers a history of proven performance. We manufacture innovative LED lighting products for applications encompassing traffic and transit, street and area, commercial, and petroleum, convenience, grocery and retail stores.
Leotek is committed to developing emerging solid-state technology that offers greater longevity and environmental viability than traditional lighting sources, while reducing energy consumption and maintenance costs. Leotek, "The Leader in Electro-Optics Technology," continues to lead the next generation with LED Green Technology. For more information, please visit www.leotek.com.
Contact
Tammy Clark Leotek Electronics USA Corp. 726 South Hillview Drive Milpitas, CA 95035 408-380-1788
E-mail:info@leotek.com
Web Site:www.leotek.com