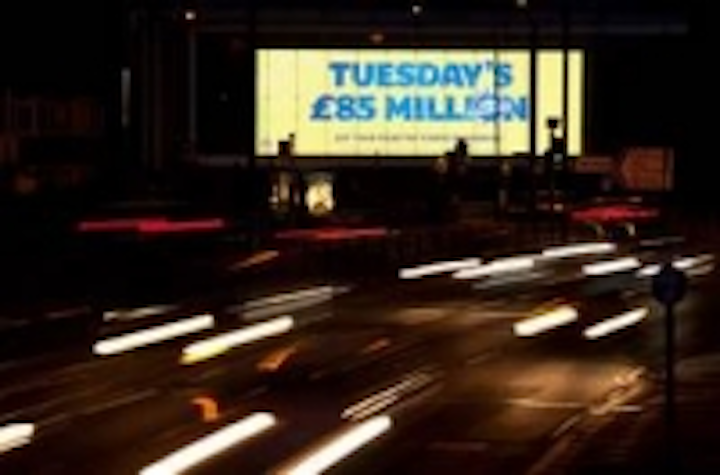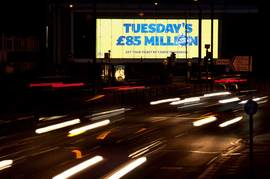 Date Announced: 24 Nov 2011
UK –- Earlier this year, Lighthouse LED screens were chosen by Carphone Warehouse Group plc (CPW), Europe's largest independent mobile phone retailer, for its building at Portal Way in London. The building faces in-bound London traffic on the busy A40 and the screen is being utilised by the company as an advertising medium.
The installation comprises 24 x 5 panels of Lighthouse's new Impact 12 and measures 18.5 m (w) x 5.8m (h). This innovative solution has 6000 nits of brightness, which makes it ideal for viewing behind glass and in direct sunlight, as at Portal Way, and the large panel size (each one measures 768mm (h) x 1152mm (h)) made installation a quick and easy process.
"CPW has owned the building for a number of years," explains Head of Finance, Rob Murray. "It was originally occupied by TalkTalk, which was part of our group at the time, and they had a successful advertising banner there. We decided to update it and replace the traditional paper-based banner with a digital screen, which could be used by the Group for advertising, but also by other big outdoor advertisers."
CPW employed specialist advisors, Uniled Solutions and Big Sky Banners, to help them with the process of deciding which screen was their best solution. "We were presented with various options based on criteria such as price, quality and service," says Murray. "We looked at around 20 different products initially, which we narrowed down to a shortlist, and then finally met with just a few of those.
"We chose the Lighthouse screen based partly on price and partly on the quality and longevity of the screen – we didn't want to install it and then find that in five years time it wasn't as bright, or wasn't working at all."
An additional bonus for CPW was the proximity of Lighthouse's UK office to the Portal Way building. "Some of the companies we looked at didn't have any presence in the UK and we were keen to have an easy contact route," Murray adds. "Lighthouse also has a number of screens installed around the UK and those in the London area allowed us to see them in action and assess their suitability."
Content for the screen is managed remotely by London-based Uniled Solutions..
"This is one of the first installations we've done with our new Impact panels and we're delighted that it is for such a widely recognised brand," comments Simon Taylor, Lighthouse's general manager for the UK. "The process was quick and simple and the result has all the visual impact Carphone Warehouse was looking for."
"We're very pleased with the screen so far," concludes Murray. "We have had a number of top brands advertising on the screen including Barclays, Virgin Active and Tesco and have also used the screen to advertise our own brands."
~END~
Lighthouse Technologies Limited is a global leader in LED display technology that develops, manufactures, and markets LED video display solutions for multiple indoor & outdoor applications, media and entertainment events, and sports arenas across the globe. With numerous technological breakthroughs to its name, Lighthouse has established itself as a multi award-winning leader in the LED display industry that holds itself to the highest standards of quality.
Founded in 1998 Lighthouse has a strong global presence with regional offices in Europe, North and South America, the Asia Pacific and China. Employing the most advanced technology, the highest quality manufacturing facilities, and world-class, round-the-clock technical support, Lighthouse satisfies customers on every major continent, captivating the imagination of millions. For more information about Lighthouse, please visit
Contact
Sarah James Gasoline Media Limited sarahj@gasolinemedia.com
E-mail:info@lighthouse-tech.com
Web Site:www.lighthouse-tech.com