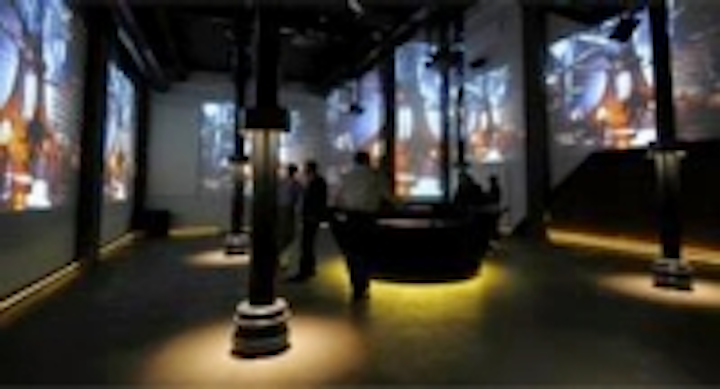 Date Announced: 28 Nov 2011
Home to the world's first cast iron bridge, the Ironbridge Gorge Museums in Shropshire is no stranger to innovation. So when it came to installing the latest LED lighting solutions in the museum's new auditorium housing a dramatic giant film show, there was only one place to turn: Collingwood Lighting.
As an iconic symbol of the Industrial Revolution, the Ironbridge Gorge was one of the first sites in the UK to be declared a UNESCO World Heritage Site 25 years ago. The Gorge now houses 10 award winning museums exploring 18th and 19th century industry within the area. In 2009 a new Visitor Centre was opened at Blists Hill Victorian Town, which gives visitors a glimpse of life within an industrial town during the era of Queen Victoria.
Housing an auditorium with giant 9 metre high screens, the Visitor Centre shows films illustrating the harsh reality of industrial life. With such an overwhelming visual experience it was vital that appropriate ambient lighting was installed, to contribute to the atmosphere. In addition, energy and maintenance costs were a key consideration, so the long-lasting, low-energy products supplied by Collingwood Lighting were the ideal solution.
Using just a fraction of the energy needed to power a traditional halogen bulb, LED lighting provides a sustainable alternative that makes it perfect for commercial and public settings such as the Museum. What's more, high quality LED lights will typically need to be replaced only every 20 years, greatly reducing maintenance requirements.
Chris Walker, Director of interpretive design company Bright White Ltd, who created the installation, commented: "We regularly use Collingwood Lighting's products as we have found them to be well made, reliable and capable of delivering the required light output. In this case, the client required a low-energy, low-maintenance solution and we were happy to recommend Collingwood Lighting's products to meet this brief."
Within the Visitor Centre, Bright White Ltd specified Collingwood Lighting's DL120 single spot downlights to highlight six architectural columns around the perimeter of the room. Bathed in warm white light, the columns create a focal point in the room. With an IP20 rating, this brushed aluminium 1watt downlight is a highly versatile and popular choice that combines sleek, understated aesthetics with high-performance lighting capabilities. Featuring an incredibly simple plug and play system, even the largest of applications can be wired in minutes.
In addition, Collingwood Lighting's DL133 triple spot downlights were used to provide variable illumination as required throughout the room. Combining three 1watt LED chips in warm white, the luminaires offer utmost flexibility for task and decorative lighting.
Anna Brennand, Deputy Chief Executive at the Ironbridge Gorge Museum Trust, said: "The aim of the film show is to transport visitors back to the Victorian period before they enter the streets, shops, cottages and workplaces of this recreated Victorian Town. Subtle ambient lighting was a key tool in creating this immersive experience. We are very pleased with the effect of the lighting design and with the products supplied by Collingwood Lighting."
For more information please visit www.collingwoodlighting.com
Contact
Gerry Cherry CIB Communications Riversway Leatherhead Bridge Guildford Road Leatherhead Surrey KT22 9AD Tel: 01372 371800 Fax: 01372 371801
E-mail:pradmin@cibcommunications.co.uk
Web Site:www.collingwoodlighting.com