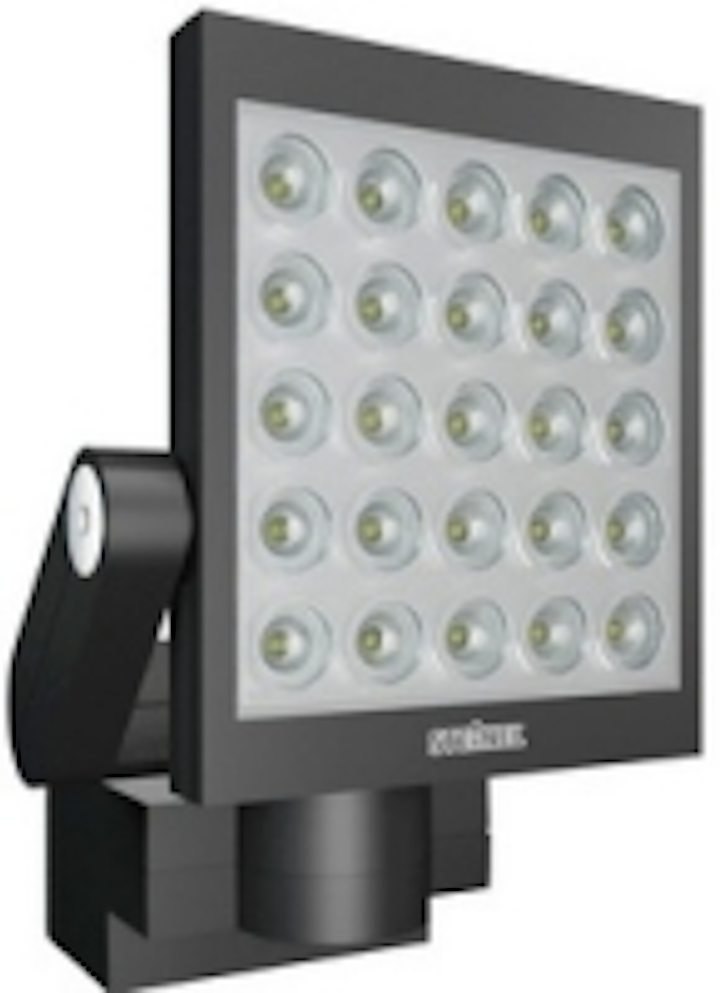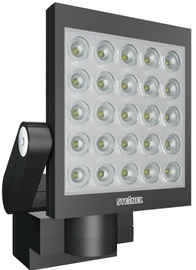 Date Announced: 01 Nov 2011
Lighting expert, Steinel (UK) Ltd, is launching its XLed floodlight, which combines ultra-bright illumination with energy-saving LED lamps. Optional integrated sensor control and wireless capabilities are also available.
The XLed floodlight provides a wide spread of bright, white light all around a building – and it does so using a minimal amount of energy. The low-energy LED design of the XLed floodlight means that it is powered using just one fifth of the energy required by a halogen floodlight. What's more, the LED boasts a lifespan of more than 50,000 hours.
No overheating
The long lifespan of the XLed floodlight is enhanced by the use of 'Active-Thermo-Control' (ATC) technology, which ensures the floodlight will never overheat. In addition to the cooling fins, the ATC system constantly measures the temperature of the LEDs and the microprocessor takes action in critical situations, ensuring the floodlight is not damaged by overheating.
Fully adjustable
The XLed floodlight, built from robust aluminium, is available equipped with either a standard 10 LED lamps (XLed 10), or the maximum brightness afforded by 25 LED lamps (XLed 25). The amount of light that the XLed floodlight emits can be easily adjusted. For a lower level of illumination, you can select a basic brightness of 10% (approximately 3W), and specify this level for either the entire night or for 10 minutes after the floodlight is switched on.
Fully adjustable, the head of the XLed floodlight can be tilted and swivelled, so that it illuminates precisely the desired area. It can also be installed beneath porches and other protruding structures without a problem.
Sensor control and wireless options
XLed 10 and XLed 25 come with optional sensor-control and wireless capabilities.
Taking advantage of Steinel's IR-Sensor technology can cut energy consumption dramatically, since it allows the floodlight to illuminate only when its highly-sensitive motion detector is triggered by a person entering the detection zone. It powers down once they have left the area and the selected time delay has elapsed, meaning that energy is never wasted on unnecessary lighting.
Optional wireless connection also allows a number of XLed floodlights to be linked together in master/master or master/slave combinations.
Peter Lawrence, General Manager at Steinel (UK) Ltd, comments: "The XLed 10 and 25 represent a chance to invest in an ultra-bright LED floodlight with a long lifespan and a low carbon footprint. The XLeds are flexible enough to illuminate precisely the desired area, so that your premises remain fully protected – but without wasting electricity on inefficient halogen lamps. To suit your needs, the XLed floodlight is also available with an integrated IR-Sensor and a wireless option. Even better, Steinel's 3-year warranty, which comes as standard, offers complete peace of mind."
Contact
Yvette White and Peter Lawrence Steinel (UK) Limited 25 Manasty Road, Axis Park, Orton Southgate. Peterborough. PE2 6UP Direct Tel: 01733 366740 Direct Fax: 01733 366745
E-mail:steinel@steinel.co.uk
Web Site:www.steinel.co.uk