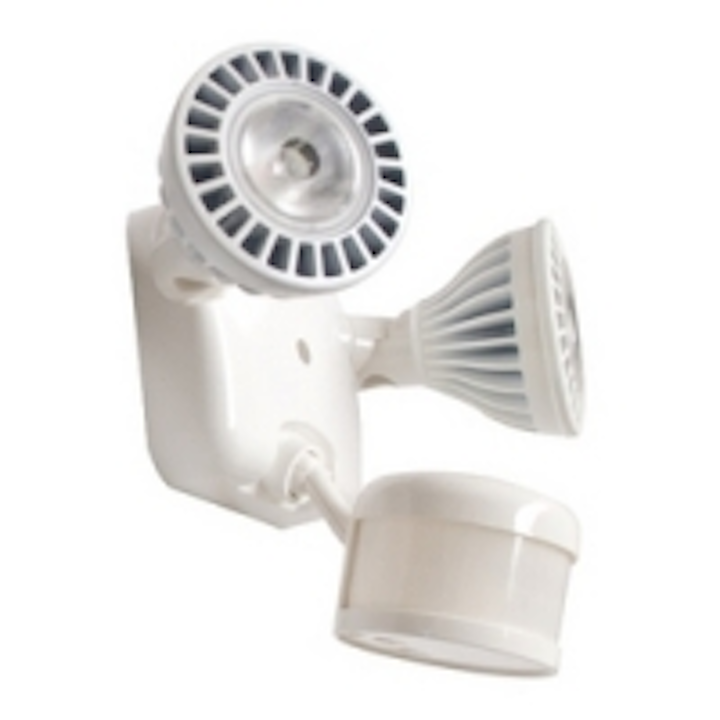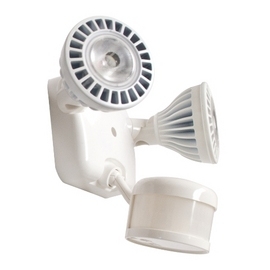 Date Announced: 29 Nov 2011
Satellite Beach, Florida – In response to increasing consumer demand for LED lighting, The Home Depot has added two new product lines made by Lighting Science Group to stores nationwide—the Defiant Outdoor White LED Motion-Sensing Security Light and the Commercial Electric Disk Light. Both product lines are approximately 80% more efficient than the traditional halogen and incandescent alternatives that they replace. The Disk Light is dimmable down to 5%, is ENERGY STAR qualified and meets the standards for California's Title 24.
A prime example of modern security architecture, the Defiant Security Light introduces motion-detecting and adjustable heads for optimal light spread (a 180 or 270 degree range and 70 foot perimeter), which can be wall or soffit mounted for added convenience. With an estimated lifespan of 25,000 hours, equating to 23 years, the Security Light uses 86 percent less electricity than similar halogen systems, resulting in an overall predicted savings of nearly 500 dollars over its lifetime.
Not to be outdone, the Commercial Electric Disk capitalizes on recent technological innovations to drastically reduce the amount of raw materials required for device assembly—70% less than comparable downlight modules. While maintaining a minimized environmental impact, the Disk redefines what is possible for recessed downlighting by retrofitting into most all 5" or 6" applications or—unlike anything that is currently on the market—surface mounting to a J-Box as a luminaire. Though sleek in aesthetic, the Disk delivers powerful performance, dependably radiating 20 percent more light than competitive products over a 35,000 hour or equivalent 32 year lifespan. The Disk also avoids inclusion of toxic materials, including mercury, to be a health-friendly option in addition to being 80 percent more energy efficient than halogen offerings. Adding to this product line will be a planned 4" version by mid- 2012.
"Over the past year, The Home Depot's ECOSMART LED bulb line has become synonymous with the best in quality and affordability for LED bulbs on the consumer market," said Jim Haworth, chairman and chief executive officer of Lighting Science Group. "Confident that the Security and the Disk lines both not only meet, but elevate this reputation, Lighting Science Group is proud that The Home Depot is offering both of our new product lines nationwide."
The Defiant Outdoor White LED Motion-Sensing Security Light and the Commercial Electric Disk Light as well as all of the ECOSMART LED bulbs are available on The Home Depot's web site (www.homedepot.com) and in stores nationwide.
About Lighting Science Group
Lighting Science Group Corporation (OTCBB: LSCG) designs, develops, manufactures, and markets LED lighting solutions that are environmentally friendlier and more energy efficient than traditional lighting products. Lighting Science Group offers retrofit LED lamps in form factors that match those of traditional lamps or bulbs and LED luminaires designed for a range of applications including public and private infrastructure for both indoor and outdoor use. Lighting Science Group's Advanced Projects Group business unit designs, develops and manufactures custom LED lighting solutions for architectural and artistic projects. Lighting Science Group is headquartered in Satellite Beach, Florida; the Company's European operations are based in Goes, The Netherlands; and, the Company has a sales office in Sydney, Australia. Lighting Science Group employs approximately 1000 workers building lighting products from domestic and imported parts. Lighting Science Group is a Pegasus Capital Advisors portfolio company. More information about Lighting Science Group is available at www.lsgc.com.
ENERGY STAR is a U.S. registered mark of the United States Environmental Protection Agency.
Contact
Andy Beck MWW Group 202-288-6862
E-mail:abeck@mww.com
Web Site:www.lsgc.com