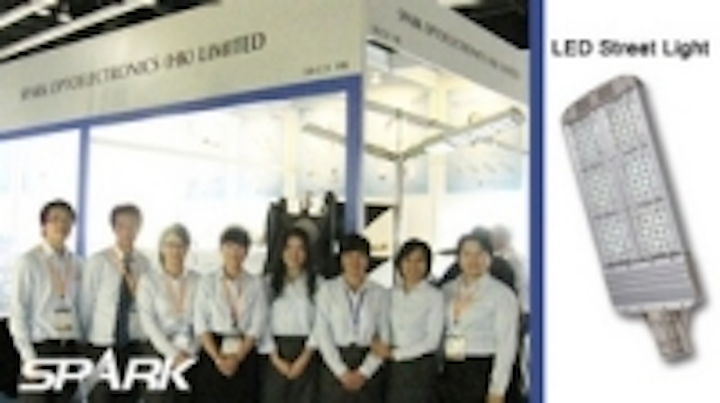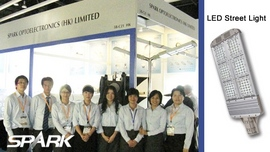 Date Announced: 14 Nov 2011
From October 27th to 30th 2011, the 16th Hong Kong International Lighting Fair was grandly held in Hong Kong Convention and Exhibition Center. Spark demonstrated independently-developed Mini LED street lights, 4 * 6 module street lights, nano-coated ultra-light high bay lamp, second optical designed tunnel lights and other new products on the fair. Shenzhen Spark Optoelectronics Science & Technology Co., Ltd with 11 years of continuous research and develop experience in LED lighting and top quality products, was highly appreciated as a commercial lighting expert.
Spark grandly demonstrated all kinds of LED lighting products, outdoor lights including traffic signal, high power LED street lights, mini LED street lights, tunnel and lawn lamp; indoor lights including high bay, tube, bulb and spot light. All products are subject to domestic and international customers alike. Many customers were satisfied with product quality, ordered samples and made appointment to visit SPARK factory on the spot.
Especially the 30w Mini street lights. 96w high power street and 56w tunnel lights attracted numerous customers with its elegant appearance and unique design style, more than 30 outstanding professional overseas salesmen introduced company's star products to foreign customers. This gave customers a deep impression.
Advantage of SPARK LED Street Light and LED Tunnel Light:
1. LED
Original US CREE LED (high luminous efficiency, stable color temperature, long lifespan, best package technology, Sic substrate, China packaging material, best heat dissipation LED).
The best chips are often used by their factory, so the quality is better compared to other packaging plants.
2. Driver
1) The first domestic intelligent control of the LED drive power, the driver has the country's first power invention patent;
2) Universal input voltage, 85V-300V
3) The use of the United States National Semiconductor IC, using the MCU multi-channel control of a single string;
4) Driver has full design margin, greatly improve product stability and lifetime;
5) The semiconductor power components use National Semiconductor (NS), STMicroelectronics (ST) and other famous brands, original capacitors from Japan Rubycon;
6) UL, PSE and CE certificate
3. Optics
1) New unique second optics design, asymmetric and rectangular beam both good for street lighting
2) Anti-UV optical PC material, up to 93% transmission rate
3) Meet a variety of roads and pole height with various lighting distribution options.
4. Heat
1) The thermal resistance of CREE LED is less than others and is the best thermal performance LED now
2) The structure of heatsink is in accordance with aerodynamics, natural heat dissipation by cross-ventilation
3) Intelligent power supply can control the temperature rise by temperature controlled setting
4) Committed to major science and technology project of Chinese Science and technology ministry on LED heat dissipation
5. Process
1) Welding material with special formula, lower the melting point of solder material while increase the robustness of solidwelding, reduce the damage to components by soldering temperature but also to ensure that product stability in the high and low temperature.
2) The special LED welding nozzle to protect the LED in the extraction process.
6. Performance
1) More than 70% energy saving
2) High luminous efficacy, High CRI
3) Achieve the temperature controller, time controller and light controller
4) Realize the wired or wireless remotely intelligent monitoring
5) Easy to maintenance
Shenzhen Spark Optoelectronics S&T Co., Ltd. will provided more superior, reliable, high-efficiency, energy-saving and low carbon products combine with LED lighting integrated solution based on strong research and production capability of competent scale, advanced technology and service experience over 150 countries and regions.
Shenzhen Spark Optoelectronics S&T Co., Ltd. has the professional developing team who are devote innovation. Now, our products have gotten the following honors: "The Famous brand of SHENZHEN", "Shenzhen indigenous innovation products", "Guangdong indigenous innovation products" etc. And our LED products have showed on 2010 shanghai World expo Corporation museum by government's recommendation. Also, we are the bid winner of National Lighting application demonstration projects which was organized by Chinese government.
Contact
Keziah Song General Manager Tel: (86 755) 8390 4366 Fax: (86 755) 8390 4766
E-mail:sales@spark-oe.com
Web Site:www.spark-oe.com