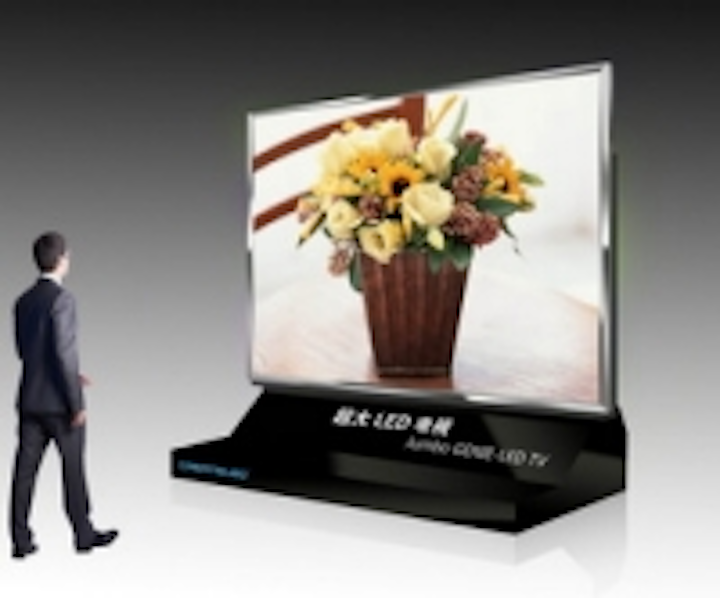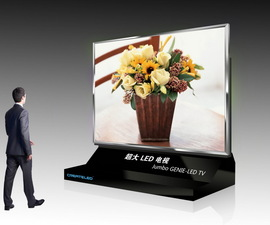 Date Announced: 05 Nov 2011
With years technology research and develop, after rigorous testing, CreateLED is really proud to launch the Giant LED TV which use LEDs as pixels for the first time in the world. Jumbo GENIE-LED TV is all about a transformative, immersive experience delivered with style and intelligence.
Unlike the traditional LED TV with high-definition LCD TV using LED as the backlight, Jumbo GENIE-LED TV, is a real LED TV, using RGB LED lamps as pixels. With the revolutionary 3-in-1 real black body SMD LEDs and black background, Jumbo GENIE-LED TV delivers high brightness, vivid colors, Excellent contrast ratio, Vibrant color uniformity, Reliability and above all extra light weight making it extremely easy to install, remove and maintain.
Moreover, this revolution Jumbo GENIE-LED TV consumes 70% less energy than standard LCD TV sets. And the most important thing is the LED TV is a Green and Environmentally friendly Product
SMD technology, high brightness
Designed to deliver the ultimate viewing experience, Jumbo GENIE-LED TV are packed with cutting-edge technologies including high performance true black SMD technology for sharp, smooth images and advanced LED technologies with high brightness for a stunning picture in a slim design.
Light Weight, Modular design, Easy transportation and installation
Unlike traditional LED backlit LCD TV with huge one panel, making installation of even a 103 inch TV very challenging and requiring special transportation and handling, Jumbo GENIE-LED TV is modular design with only 7kg per panel. Jumbo GENIE-LED TV's built-in "speego" quick connector enables fast and easy assembling of these modular panels to give a full range of 16:9 aspect ratio diagonal sizes. No hand tool is needed for assembly and tearing. This modular design enables tremendous savings in both shipping and handling costs.
The base forms a stable support for the LED screen. It also stores the built-in Video Processor and an optional PC system. Input jacks, power cable, Cat5 and Fibre Optics video data input interface at at the sides of the support base, making it very compact and smart looking.
Seeing is Believing
Experience supremely sharp, bright and vibrant images with CreateLED's most advanced processing system. Simply put, Jumbo GENIE-LED TV delivers astounding picture quality-no matter what you are watching.
Fast action at full speed
Superfast refresh rate of more than 1000Hz. This advanced motion processing technology enhances moving images by inserting extra frames between pictures.
Connectivity
Smart Jumbo GENIE-LED TV allows you connect with multimedia devices easily with its built-in HD video processor. High definition Multimedia Interface input jacks allow you to directly connect up to more devices, providing you with much more flexibility to watch and share.
For video sources sited at more than 100m away, there is a Fibre Optics input jack option to allow for longer distance transmission of video signals without noise interference.
Jumbo GENIE-LED TV-160 Jumbo GENIE-LED TV-203
Basic Spec Screen Size 160"(4.031m) 203"(5.148m)
Aspect Ration 16:9 16:9
Optical Spec Resolution 896 × 512 1152 × 640
Brightness 1200 nits 1200 nits
Horizontal View Angle 160 deg 160 deg
Vertical View Angle 160 deg 160 deg
Life Time 70,000 Hours 50% of 1,200 Nits. Brightness
Max. Power Rating4.2 KW 6 KW
Signal Processing 16-bit
Drive Method 1/16 Scan Method
Colors 281 Trillion
Recommend View distance >3m
Grey Scale (Linear) 65,536 levels per color
Refresh Rate 600-3,000Hz
Contrast Ratio 4000:1
Signal Compatibility PC Input VGA,S-VGA,WVGA,WSVGA,XGA,SXGA,XGA+,SXGA+,WXGA,UXGA,WUXGA
Video Input NTSC,PAL,PAL60,SECAM, Modified NTSC
Signal Compatible Formats
Input/Output Input
Numbers/Type 2xComposite video; 1x D/P(Display Port); 1x VGA(RGBHV); 1x DVI; 1x HDMI; 1x SDI(HDSDI)
Video System PAL/NTSC
Composite Video Scope/Impedance 1V (p-p) / 75Ω
VGA Format PC (VESA) ≤1600x1200 @60HZ-
VGA Scope/Impedance R、G、B = 0.7 V (p_p) / 75Ω
DVI Format SD/HD(EIA-861B) ≤1920x1080P @60HZ
PC(VESA) ≤1600x1200 @60HZ
HDMI Format (HDCP) SD/HD(EIA-861B) ≤1920x1080P @60HZ
PC(VESA) ≤1600x1200 @60HZ
DP Format SD/HD(EIA-861B) ≤1920x1080P @60HZ
PC(VESA) ≤1600x1200 @60HZ
SDI Format SDI-SMPTE 259M-C 576i @50HZ
480i @60HZ
HDSDI Format HDSDI-SMPTE 292M
SMPTE 274M/296M 1080i @50HZ/60HZ
720P @60HZ
Input/Output Output
Numbers/Type 1×VGA ( RGBHV)
2xDVI
VGA/DVI Format 1024x768@60Hz/75Hz
1280x1024@60Hz/75Hz
1600x1200@60Hz
1920x1080p@50Hz/60Hz
VGA Scope/Impedance R、G、B = 0.7 V (p_p) / 75Ω
Output Connectors VGA: 15pin D_Sub(female)
DVI OUT1: 24+5 DVI_I
DVI OUT2: 24+1 DVI_D
Others Screen Dimension ●W: 3500mm(137.8")
●H: 2000mm(78.7")
●D: 63mm(2.5") ●W: 4000mm(157.5")
●H: 2500mm(98.4")
●D: 63mm(2.5")
Panel Material Anodized Aluminum Profile
Screen Net Weight About 200KG (440lb) About 280KG (128lb)
Base Net Weight
Operation Spec Power Supply 220V-240V
50Hz/60Hz 220V-240V
50Hz/60Hz
Temperature 0℃ to +40℃
Humidity 10% to 90%
Contact
CreateLED E building, Jinxiongda industry park, Huanguan road, Guanlan Town, Shenzhen City, China T +86 755 2958 8968 T +86 755 2958 8855
E-mail:lucy@createled.com
Web Site:www.createled.com