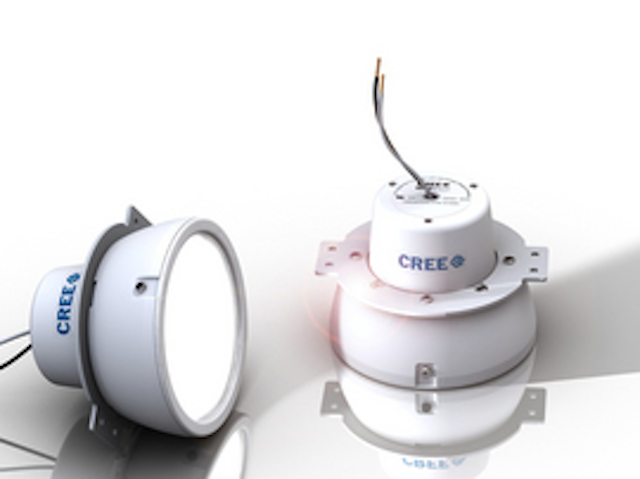 Date Announced: 21 Jan 2011
Thief River Falls, Minnesota – Electronic components distributor Digi-Key Corporation, recognized by design engineers as having the industry's broadest selection of electronic components available for immediate shipment, today announced its stock of Cree's LMR4 LED light modules is available in Europe and around the world. The LMR4 modules are designed to simplify the creative process, giving lighting manufacturers more options as they develop LED lighting products.
This product has been in stock and available to customers worldwide on Digi-Key's website since November 2010. Cree's LMR4 is ready for purchase on Digi-Key's global websites and will be featured in future print and online catalogs.
"We are pleased to extend Digi-Key's inventory of Cree products to include the LMR4 module family," said Mark Despotes, Cree vice president of channel distribution. "As a trusted resource for the electronics community, Digi-Key can help accelerate the LED Lighting Revolution by providing fixture makers ready access to the latest LED lighting technology."
The Cree LED Module LMR4 uniquely integrates driver electronics, optics, and primary thermal management, making the compact module drop-in ready. Designed to last 35,000 hours while consuming just 12 watts of power, it delivers 700 lumens at a variety of color temperatures from 2700K to 4000K. Fixture manufacturers have the option to include a specially designed heat sink to accommodate specific high heat applications such as downlights for insulated ceilings.
The 120-volt LMR4 is UL recognized, and the 230-volt LMR4 complies with multiple international standards. Fixture makers seeking ENERGY STAR® qualification will have access to specifications and performance data, including LM-80 reports, which can speed regulatory approvals.
Digi-Key Corporation focuses on providing customers with superior service, which includes product selection and availability, on-time delivery, and responsiveness. Using leading-edge processes and state-of-the-art technologies, Digi-Key serves a global customer base from its 600,000 square foot facility in Thief River Falls, Minnesota, USA.
About Digi-Key Corporation
As one of the world's fastest growing distributors of electronic components, Digi-Key Corporation has earned its reputation as an industry leader through its total commitment to service and performance. As a full-service provider of both prototype/design and production quantities of electronic components, Digi-Key has been ranked #1 for Overall Performance for 19 consecutive years from among the nation's more than 440 distributors (EE|Times Distribution Study/October 2010). Offering more than 1.8 million products from more than 440 quality name-brand manufacturers, Digi-Key's commitment to inventory is unparalleled. With global sales for 2010 surpassing $1.5 billion, Digi-Key's single location in North America is one of its greatest assets. Access to the company's broad product offering is available 24/7 at Digi-Key's top-rated website,
www.digikey.com
.
About Cree
Cree is one of the leaders in the LED lighting revolution. The company makes energy-wasting, traditional lighting technologies obsolete through the use of energy-efficient, environmentally friendly LED lighting. Cree is a market-leading innovator of lighting-class LEDs, LED lighting, and semiconductor solutions for wireless and power applications. Cree's product families include LED fixtures and bulbs, blue and green LED chips, high-brightness LEDs, lighting-class power LEDs, power-switching devices and radio-frequency/wireless devices.
Contact
Erica Hanson Manager, Corporate Communications & Media Relations 218-681-8000, Ext 2247
E-mail:erica.hanson@digikey.com