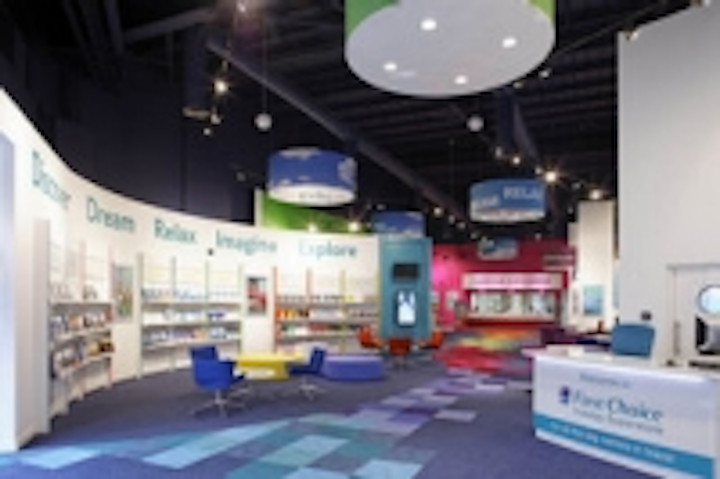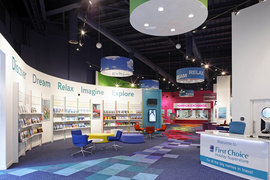 Date Announced: 19 Jan 2011
Lighting manufacturer JCC Lighting has been appointed by First Choice Holidays as its lighting partner, to supply lighting solutions in their new concept holiday superstores, and their shop-in-shop pods located in large department stores throughout the UK. The most recent store to open is the Greenford superstore in Middlesex.
This high profile project required low energy lighting solutions, in particular LED lighting, to save energy, and reduce maintenance and re-lamping costs. Previous lighting systems utilised 100% 35W and 70W CDM-T, which produced intense light and uncomfortable heat in the working areas. JCC was easily able to provide an alternative low energy lighting solution, with typical energy savings in excess of 60% whilst maintaining original lighting levels.
The Aztek spotlight range was featured heavily throughout the store due to their high output, long life and versatility. Black versions of the 10W LED spotlights were used across the main store on black Mainline track, providing the effect of 'disappearing' into the ceiling void. To provide extra punch in specific areas, Aztek 70W CDM-T spotlights were also used at a ratio of one to four in amongst the LED spots.
The Rakula 16.8W LED downlight was utilised in floating 'cloud' units throughout the store, highlighting specific messaging to customers. Rakula downlights provide a high output performance and are perfectly suited to commercial applications of this kind due to their long life and wide light distribution.
The Welcome counter at the front of the store featured the Ragoza LED strip, used as a hidden highlight feature under the pelmet of the counter. This discreet, flexible striplight LED system allows an even illumination without thermal effects, ideal for an area that could be accessed by children. With a lifetime of 50,000 hours, Ragoza offers a low maintenance low energy lighting solution.
The range of selected products means that JCC was able to ensure excellent colour rendering, enhancing the vivid colour scheme and shop fittings across the stores. Also incorporated into the scheme was a full emergency system, unobtrusively placed throughout.
Dave Dawkins, Managing Director of JCC Lighting commented: "We are delighted to have been selected by First Choice Holidays to light their new concept stores. One of our main focuses as a lighting manufacturer is to provide cost savings to our customers; we have been able to lower the energy consumption used by First Choice stores and extend the lamp life by up to four times, simply by offering an LED solution".
First Choice Superstores offer a more relaxed experience for booking a holiday, with comfortable seating for browsing through brochures and children's areas to keep them entertained. The new lighting scheme complements this environment - the lighting intensity and heat levels have been greatly improved, providing safer and more comfortable lighting for both staff and customers.
Contact
For further information please contact: Nina Elliot-Newman, JCC Lighting, T: +44 (0)1243 829040 e-mail: For press information please contact: Jo Murphy, Vertical Marketing T: +44 (0)1202 842250 e-mail: jo@vertical-marketing.com website: www.vertical-marketing.com
E-mail:sales@jcc-lighting.co.uk
Web Site:www.jcc-lighting.co.uk